Alicia Minshew came down from floating on air long enough to tell Soap Opera Digest about the way boyfriend Richie Herschenfeld proposed to her last month.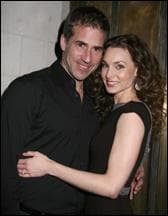 "Richie and I have been talking about getting married sometime in 2008, and I figured maybe sometime in 2008 he'd propose to me. He completely surprised me by doing on December 13," she recounted.
After a long day of work, the All My Children star returned to the apartment she shared with Herschenfeld and "Richie said, 'Lish, I cooked you dinner,' and I was like, 'Awesome!' He poured some wine, and I was like 'Wow, wine, in the middle of the week?' He never does that."
Naturally, such a course of action caused Minshew to wonder about what her boyfriend was up to.
"We sat by the Christmas tree, drank some wine, and the next thing I know we're cleaning up after dinner, and he says, 'Lish, can you go check the Christmas tree to see if it has enough water?'"
It did. But then Herschenfeld pointed out something on the tree:
"There was a big red bow that was not there two seconds [before]. Apparently when I was leaning over to check the water he stuck it to the tree. I looked closely and dangling from the bow was this silver Tiffany's charm bracelet and I thought, 'All right! An early Christmas present! Nice!'"
From there, the actress noticed the inscription on the charm: "It said, 'I love you,' on one side, and I thought, 'Oh, that's sweet,' and then I turned it on to the other side, and it said, 'Will you marry me, my sweet Lish.' I swear to God my whole entire body went numb. He said, 'I've waited my whole life for you. Will you be my wife?' I combusted into tears."
Read the rest of Minshew's account right now.
Matt Richenthal is the Editor in Chief of TV Fanatic. Follow him on Twitter and on Google+.