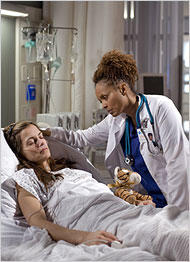 As the writers' strike approaches the three-month mark, it has conveyed new cachet, such as it is, on soap operas.
Shows like General Hospital and As the World Turns have become virtually the only reliable option for viewers interested in watching rerun-free, serialized drama on broadcast television.
None of the eight daytime dramas on network television have gone into reruns, and none have plans to do so. But in a genre that thrives on drawn-out cliffhangers, the most sensational mystery in daytime may be how these shows are being written at all, considering that nearly all of their writers are guild members on strike.
A handful of writers, for All My Children, One Life to Live and General Hospital on ABC and The Young and the Restless on CBS, have officially crossed picket lines to return to work in recent weeks, invoking a guild designation known as "financial core," or financial need. But they are the exception.
Read the full article in The New York Times now.
Matt Richenthal is the Editor in Chief of TV Fanatic. Follow him on Twitter and on Google+.