While fans gather in our forum to discuss each character, couple and plot twist, the Grey's Anatomy Insider staff comes together to talk about the key moments and share their opinions regarding the latest episode of our favorite drama.
We apologize for the delay in posting this episode's Round Table! Our topics for "Piece of My Heart" include Addison awkwardness, Alex's potential parenting prowess, George's dart skills (or lack thereof), and Callie's choice of teams...
1. Who do you think is better at darts, George or Lexie?
McCritic: Lexie. As proven by his affair with Izzie, George is all over the place. I'd hide behind my beer mug if I were seated anywhere in the bar when George O'Malley stepped up to throw.
iheartizzie: George may score big with the ladies (Olivia, Meredith, Callie and Izzie), but sorry, I can't see any bulls-eyes or triple-20s being thrown by the bumbling intern.
missingBurke: Tough call there, but both of their scores should begin to improve once Lexie steals the dartboard for their apartment.
2. Callie says she loves penis. Do you believe her?
iheartizzie: Not entirely. About 40 percent of our poll respondents think she and Erica Hahn would be a good couple. If 40 percent of you can envision girl-on-girl action involving Callie Torres, her love for the cock is at least somewhat in doubt.
McCritic: Yes. Moreover, based on her decision to go home with Mark Sloan at the end of the episode, Callie obviously loves dicks, as well.
missingBurke: I believe Callie. If she harbored any lesbian tendencies, she would have come on to Addison long ago. Much more her type!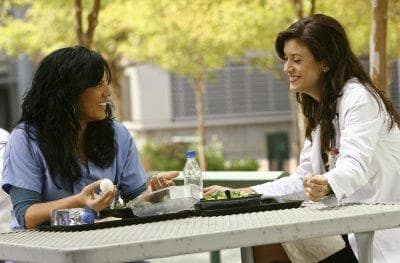 3. More awkward moment involving Addison: her hug with Meredith, or her interaction with Rose in the OR?

missingBurke: Rose sucks, but I couldn't help feeling a little bad for her when Addison burst out with the question of who Derek's dating. Rose's smart-ass reply effectively dumped gasoline on an already awkward fire.
McCritic: Option C: Anything she does on Private Practice.
iheartizzie: Addison was cool to Mer overall, but that hug showed how one can't fully embrace one's ex-husband's dirty mistress without some level of discomfort.
4. Would Alex Karev make a good father?

McCritic: Not at first. Karev is easily frustrated, prone to emotional outbursts. I can see him dressing down his offspring for spilling peas and carrots all over the table. But Alex also learns from his mistakes. The tyke will break through this doctor's rough exterior and find a place in his heart.
iheartizzie: I think he would actually be very good. Alex Karev remains guarded about his own tough upbringing, but is keenly aware of the problems it has caused. Alex Jr. would definitely be raised much better!
missingBurke: Good... I think. Can we just discuss how disjointed the whole Rebecca / Ava plot line is? She bolts Seattle, then shows up, then leaves, then shows up again and is supposedly pregnant, but really isn't? It all seems a bit thrown together and haphazard. I'd love to know where Shonda is taking this.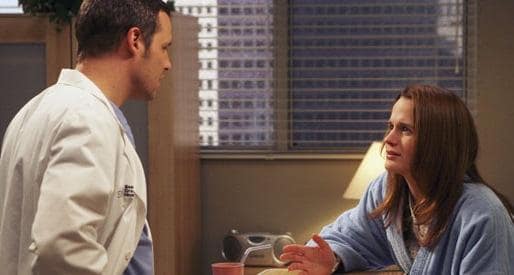 Steve Marsi is the Managing Editor of TV Fanatic. Follow him on Google+ or email him here.