Five burning questions we've been pondering regarding Grey's Anatomy, which despite of its ups and downs, will start its fifth season in this fall:
1. Will Izzie leave Seattle Grace? Some have speculated that Katherine Heigl's recent comments about Grey's Anatomy were an effort to get out of her contract, which is said to extend through 2009-10. See broader examination of this topic here.

2. Meredith and Derek: What next? Amazingly, Shonda Rhimes was saying well in advance how she wanted to get Meredith and Derek together for good by the Season 4 finale. And she did, with a terrific season ender. But if they really are together for good, and everything's blissful where's the drama? The tension? The entertainment? Can this normal, happy couple really sustain itself on TV, or are we really addicted to watching our two favorite lovers be torn apart by one issue after another?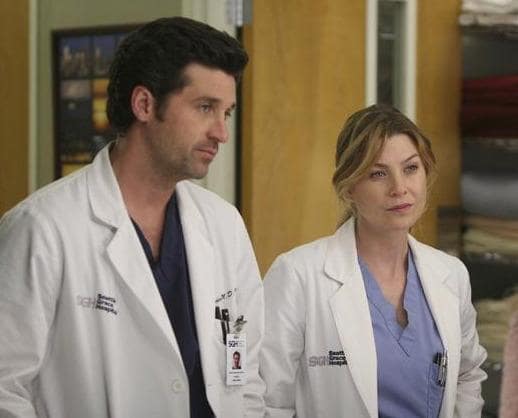 Will Grey's Anatomy as we know it cease to exist with these two actually together?
3. Will ratings rebound? Grey's Anatomy started its fourth season battling for the best ratings of any scripted show on TV, but after the writers' strike, the show took a hit. Granted, the strike hurt everyone, but Grey's Anatomy seemed to lose its buzz along with the ratings. Was it just a blip, or is this a sign that interest is waning?
4. What's with Erica and Callie? With a passionate kiss in the season four finale, Erica and Callie seemed destined to be the first same-sex pairing on the Grey's Anatomy scene and perhaps the most famous lesbian couple on TV. While some were surprised when Callie went in that direction, it will certainly be interesting to see where a relationship between these two previously underutilized characters may lead.

5. Will Season Five of Grey's Anatomy be it? We know you don't want to even think about it, but it's worth asking - in fact, these days, a show that runs more than five seasons â€" much less six or seven â€" is a rarity on network television. And in the case of Grey's Anatomy, the story has a natural end: when the core group of doctors wraps up the residency program. Will the fifth season be it, or will it just set in motion plot lines and relationships that will shape the show for years still to come?
Steve Marsi is the Managing Editor of TV Fanatic. Follow him on Google+ or email him here.