Before Michelle Monaghan went public with news that she's pregnant with her first child, Patrick Dempsey was already aware of her condition.
"It was a big secret, and I wasn't allowed to tell anyone, but I knew Michelle was pregnant, and I am thrilled for her," the Grey's Anatomy star said.
"Michelle will be a great mom because she has a good head on her shoulders, a fine husband, and overall, she is a lovely woman."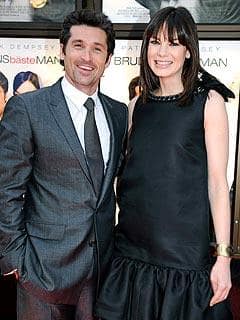 Patrick Dempsey and Made of Honor co-star Michelle Monaghan.
Patrick, who with wife Jillian Dempsey has 18-month-old sons Darby and Sullivan, and 6-year-old daughter Talula, spoke from experience and gave his Made of Honor co-star some advice on being a first-time parent.
"I told Michelle she may not see it now, but life will change profoundly after she delivers the baby," he said. "I told her being a parent is a feeling that she will not understand until she actually has the child."
Dempsey, who races as often as his acting schedule allows - he's due to report back to the set of Grey's Anatomy June 25 - is looking forward to one day bringing his entire family to the racetrack with him.
"Jillian always tells me to be careful when I leave the house for a race," says Patrick Dempsey, who is pursuing his racing passion this weekend and competing for the first time at Watkins Glen International.
"It is hard to leave the family on weekends because I love spending time with the kids, but I also love to race. I count the days until they can come with me, and we can all be here together."
Steve Marsi is the Managing Editor of TV Fanatic. Follow him on Google+ or email him here.