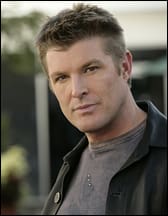 Winsor Harmon, as all fans of The Bold and the Beautiful know, portrays Thorne on that acclaimed series. He recently spoke to Soap Opera Digest
about the role
:
Soap Opera Weekly: So, should we be worried about poor Eric? Are the Forrester kids worried?
Winsor Harmon: Well, we've seen him once (laughs). We're doing a lot of offcamera visitation. We were laughing about it in a scene the other day. We were like, "My God. He's been in coma for two days, and we already want to pull the plug!" It was funny.

Weekly: Are you glad to see some conflict [on The Bold and the Beautiful] centering around the Forresters this summer?
Harmon: Summertime's always slow for us, and that's fine with me, because the kids are out of school and I'd rather spend time with my son. But, yeah, it's fun.

Weekly: A lot of viewers are glad to see Thorne and Felicia doing stuff instead of standing around.
Harmon: I love those two characters together, for some reason. I love working with Lesli (Kay) and we really have great spontaneity. We play off each other, and most of the time we're not even following the script. There's a lot of ad-libbing, which is really fun. It's a shame we're brother and sister.
Matt Richenthal is the Editor in Chief of TV Fanatic. Follow him on Twitter and on Google+.