After last night's episode, "Duplicity," Army Wives Insider is left with a number of burning questions. Tell us what you think of the following:
Was it just us, or were there mixed signals from Lifetime about whether last night's episode was going to be a repeat?
Are Lifetime's promos for subsequent episodes too revealing in the Army Wives spoiler department, or do you like them as is?
Does the plot line revolving around Trevor's prescription addiction interest you, or are you just tired of it at this point?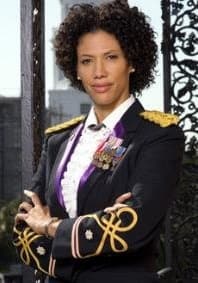 Is Joan (pictured) in the clear (physically and otherwise) or will see once again put her baby and herself at risk as she tries to ward off Evan?
After last night, how does the Denise-Frank saga play out?
We know it's kind of beside the point, but seriously, do high school kids have any rights?
And lastly: Pamela's girl-on-girl moment - hot or not?
Steve Marsi is the Managing Editor of TV Fanatic. Follow him on Google+ or email him here.