Heroes premiered last night with two hours worth of twists, turns and new powers that almost made us forget the horrendous second season ever existed.
And that's quite an accomplishment.
The evening began with a look four years into the future, as Claire aimed a gun at Peter. She always loved him, the newly brunette bad ass said, just as she pulled the trigger... but Peter stopped time, grabbed the weapon and returned to the present day. His mission there?
To kill Nathan.
Indeed, we got an answer to last season's cliffhanger, along with a newly set up story line (Future Peter has gone back in time in order to change a future in which Heroes are hunted down by the government) within the show's first two minutes. Creator Tim Kring wasn't joking about this chapter being fast-paced.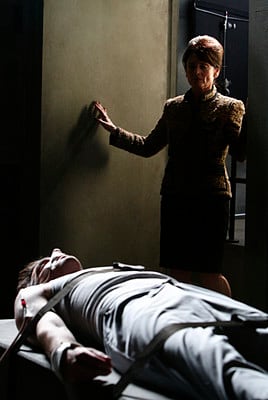 The two-hour Heroes premiere culiminated in this shocking scene, as Angela Petrelli let Sylar in on a little secret.
Also going down on Heroes last night? Hiro got a new mission and new nemesis; Parkman met a bushman in Africa; and Mohinder did his best Spider-Man impression. Keep reading about the third season premiere now...
Matt Richenthal is the Editor in Chief of TV Fanatic. Follow him on Twitter and on Google+.