Private Practice star Tim Daly gives a good interview.
We saw that earlier. Now he's dishing on some spoilers - some of the things we can expect going forward - in a brief Q&A with E! Online ...
E!: What can we expect from Pete's renewed relationship with Jayne Brook's character, Meg?
Tim Daly: We can expect sex. We can expect conflict. I think we can expect to learn maybe that Pete - whether he's conscious of it or not - may be ready to have something a little more significant than the flings he's had in the past.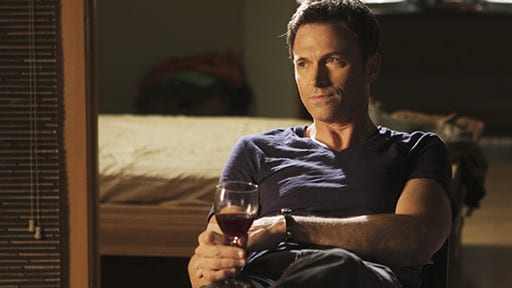 E!: Will we see more of Pete and Addy's plan to be "old friends"?
Tim Daly: You know, not to sound like I'm critical of the show, but I just don't believe that! First of all, when have Pete and Addison (Kate Walsh) been friends? All we did was make out and then ignore each other. I want to see this friendship. I haven't seen this friendship. I don't believe that they're friends. I also think they're harboring something deep down that's a lot more than buddies, so I'm just waiting for it to emerge. This friend stuff? That I'm not so sure about.
E!: Pete has this hidden past in Western medicine! What does that mean for his future?
Tim Daly:
It became clear to me in our first season that it's very hard to write things that are really intensely dramatic for a guy that does acupuncture. "Yeah, just relax for 20 minutes and I'll be right back." I think reinforcing Pete's expertise in Western medicine gives the writers the option to put Pete in stories where there are things that are more life-and-death, moment-to-moment.
E!: Is there anything else we should know about Private Practice this year?
Tim Daly: One of my favorite things of this season is a very interesting romantic liaison develops between Pete and another regular character on the show. I won't say who it is, but it's really surprising and awesome.
E!: Shut up. Seriously? Is it Violet?
Tim Daly: It could Violet, it could Naomi (Audra McDonald)... Charlotte is with Cooper (Paul Adelstein) for now, but it could be Charlotte, it could be Sam (Diggs).
Steve Marsi is the Managing Editor of TV Fanatic. Follow him on Google+ or email him here.