While House fans are torn on the coupling of Thirteen and Foreman - aka "Foreteen" - almost all followers of this Fox drama support the romantic inklings between Cuddy and House.
During a recent press event, stars Lisa Edelstein and Hugh Laurie commented on the rising tide of their characters' romance.
"It's been great," Lisa said of the burgeoning, awkward, hilarious relationship. "I think it's been more of a reveal [of feelings] than a change. I think [House and Cuddy] came together in that moment when they kissed... I loved that they found each other in pain. I pondered how these two people could come together... Through pain seemed absolutely perfect."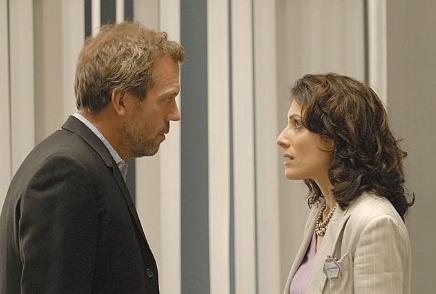 As for the actor that portrays the show's title character?
"It wasn't conventionally romantic," Laurie said. "But nothing this fellow does is. It's a twisty thing and there's something about the loneliness of these two characters, there's something poignant about these two characters needing each other without realizing it. Neither of them saw it coming."
Matt Richenthal is the Editor in Chief of TV Fanatic. Follow him on Twitter and on Google+.