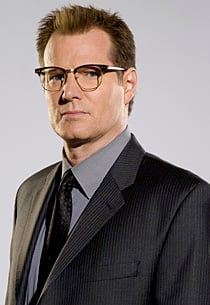 Jack Coleman's Noah Bennet (HRG to most Heroes fans, of course) is at the center of tonight's new episode, "Cold Wars."
The actor sat down with TV Guide this week and previewed the installment, as well as the rest of the volume. Here are a couple excerpts:
What can we expect?
Suresh, Peter Petrelli and Matt Parkman have gotten together and decided that HRG is the key to what they need to find out. Parkman is driving the whole thing because he wants to find out what happened to Daphne. So he does a mental interrogation — he processes my memories, and we flash back to see how all these events came to be. It's a really good use of Parkman's abilities. He's not going in and telling me what to think, he's going in and prying loose this information.
What can we expect from the rest of "Fugitives"?
There will be fewer stories per episode and more concentration on the relationships between people — it will be more character driven than plot driven. Ultimately, we're trying to get back to the emotional core of the show — relationships between human beings. I really think these new episodes are quite good. People get wrapped up in thinking this show is not what it used to be, but if you forget all that and take these episodes on face value, they are really good.
And what's happening right now, we're making stories that are relatable, have emotional value to  them and are also entertaining. I'm really excited about where we're headed. People who have liked the show at any point will be rewarded. I think a corner has been turned, and we're heading in the right direction.
Matt Richenthal is the Editor in Chief of TV Fanatic. Follow him on Twitter and on Google+.