Jeremy Piven has won three consecutive Emmy Awards for Best Supporting Actor in a Comedy.
But that streak is guaranteed to end this year, as the Entourage star isn't even nominated.
Piven's co-stars are in shock over that fact, blaming the negative press the Ari Gold portrayer received when he dropped out of a Broadway play earlier this year due to alleged mercury poisoning.
"I'm meaning to call Jeremy, because he's probably feeling a little down today," Kevin Dillon, who received his third nomination for the role of Johnny Drama, told TV Guide Magazine. "I think he deserved a nomination. He did some great work last season. Maybe the weird press had something to do with it."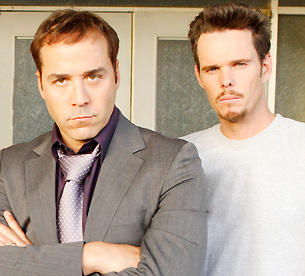 Added producer Doug Ellin: "Jeremy was so good last year. To go from a perennial winner to not even being nominated with the work he did last year is kind of shocking. Jeremy was as good as ever last year, but he has some great stuff coming up this season."
That includes a great scene with Drama, said Dillon.
"We have a heartfelt moment, which is unusual for us. Usually Ari and Drama don't have many scenes together - and certainly not heartfelt. Let's just say, Drama is considering moving on from the Miller/Gold Agency."
Matt Richenthal is the Editor in Chief of TV Fanatic. Follow him on Twitter and on Google+.