On the Season 2 finale of Private Practice, Violet (Amy Brenneman) was given a paralyzing drug by a mentally unstable patient, who planned to cut Violet's baby out of her womb.
So does the Private Practice shrink survive?
Brenneman is back to work, but that didn't stop executive producer / creator Shonda Rhimes from joking, "Maybe she's a ghost," but the real answer is a resounding, "Yes."
"We are going to pick up about 20 minutes from where we left off," Rhimes said.
"The most interesting thing about putting someone in that position is to watch them get out of it. So, we are reintroduced to the [Private Practice] world in a high-stakes way."
That said, ET asked Amy who is Violet's baby daddy?
Could it be Pete (Tim Daly) or Sheldon (Brian Benben)?
Brenneman teases, "I just found out and I am not saying."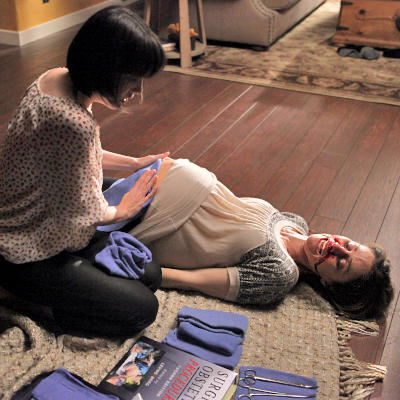 As for the real-life case where a baby was allegedly cut out of its mom's womb in Massachusetts in July, Brenneman says, "That copycat stuff freaks me out."
"I knew of another case that predated our show. I think people were very affected by the season finale. It was a very powerful mojo to put out there."
In other Private Practice news, Dr. Miranda Bailey (Chandra Wilson) will cross over from Grey's Anatomy, visiting the Oceanside Wellness Center to learn a new medical procedure.
The visit will take place in the third episode of the Private Practice season.
Private Practice returns for its third season on Thursday, October 1 at 10 p.m.
Steve Marsi is the Managing Editor of TV Fanatic. Follow him on Google+ or email him here.