Earlier this month, Heroes star Hayden Panettiere said her character of Claire will be "chasing a normal life" at college.
It's not hard to imagine how that will turn out, especially based on the following photo from an early season four episode.
It depicts Claire, bloodied and motionless on the ground. We know she'll soon heal herself, but why is there a chalk outline around her body?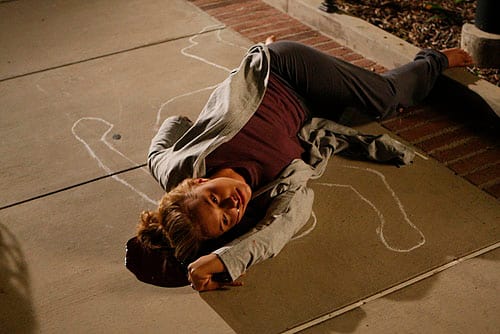 In other season four news, the episode titles for the first eight installment of "Redemption" have been released. They are:
Orientation
Jump, Push, Fall
Acceptance
Ink
Hysterical Blindness
Tabula Rasa
Strange Attractors
Once Upon A Time In Texas
Heroes returns on September 21 on NBC. Talk about it now in our forum!
Matt Richenthal is the Editor in Chief of TV Fanatic. Follow him on Twitter and on Google+.