After a season of pill-popping and infidelity, everything came crashing down on Jackie Peyton this week, following two drunk sentences from her ex-lover, Eddie:
I met Kevin. Nice bar you two have.
These were a few of the final words uttered on the first season of Nurse Jackie. How did Edie Falco's character react to them? Our recap of "Health Care and Cinema" has the answer!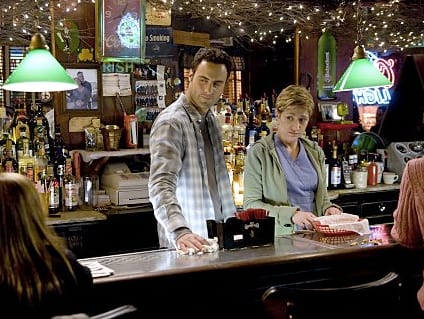 Below, we've listed a few of the best Nurse Jackie quotes from the episode:
Eddie [to Jackie]: I met Kevin. Nice bar you two have. | permalink
Eddie: I'm seeing someone, but she's married... with two kids.
Kevin: Sounds like a rough road.
Eddie: You have no idea. | permalink
Jackie [to Fitch]: You're a moron. | permalink
Matt Richenthal is the Editor in Chief of TV Fanatic. Follow him on Twitter and on Google+.