What did you see?
That's the question that was frequently asked on this week's series premiere of FlashForward, and it's one we're likely to hear often over the next few weeks.
Following the opening hour of this wildly anticipated new drama, though, we have a different question for readers: Was it worth the hype?
Did the first episode live up to ABC's billing? Will it be the next Lost? Will you tune in next week?
Our answer, across the board, is: yes, definitely. We were glued to our television screens during the hour. Browse through our detailed recap of "No More Good Days" and chime in with your thoughts on the show.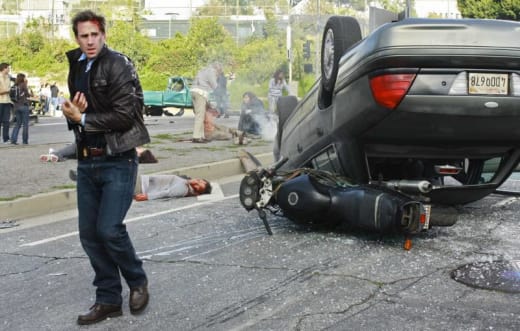 Below, we've listed a few of the most revealing FlashForward quotes from the episode:
Aaron: Even if this future stuff is real, maybe it's a blessing in disguise... Ghost of Christmas future crap. | permalink
Mark: I was drinking again. The anxiety, the shame, it was all back. | permalink
Demetri: What if I didn't see anything because six months from now I'm gonna be dead? | permalink
Bryce: I saw a glimpse of my future and everything's changed for me now. | permalink
Matt Richenthal is the Editor in Chief of TV Fanatic. Follow him on Twitter and on Google+.