On May's season finale of How I Met Your Mother, Barney and Robin professed their feelings for one another.
When new episodes kick off later this month, this pair will be trying to figure out their relationship, a development that Neil Patrick Harris promises will be "dirty" and fun. He tells the latest issue of Entertainment Weekly:
"It seemed a dirty, dirty inevitability, a lusty endgame," Harris said of his character's pictured bedroom scene with Robin. "We're gonna show a lot more skin on HIMYM."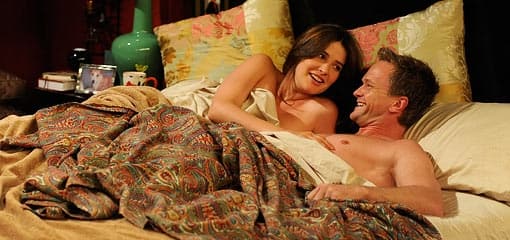 Don't worry, though, viewers: Barney will remain classic Barney.
"He just has so many bad habits as far as strip clubs and shameless flirting goes, I don't think he's even contemplated that he would have to curtail any of that," said the actor. "So that's an interesting wrinkle. In episode 2, he's just business as usual - but with a girlfriend. But Barney can't really exist in business as usual, with a girlfriend. I think the writers have got some good stuff to mine."
In other words: taken or single, Barney Stinson will continue to utter the most hilarious How I Met Your Mother quotes of them all.
Matt Richenthal is the Editor in Chief of TV Fanatic. Follow him on Twitter and on Google+.