It wasn't very long ago that we deemed Robert and Kitty "headed for splittsville" on Brothers & Sisters.
After all, Robert was focused on his campaign; and Kitty had grown interested in a new man, Alec.
But Rob Lowe told CBS News last week that Kitty's illness will bring these two closer together, a positive side effect to her unfortunate condition.
"Last season was the study of a disintegration of a marriage and we begin this year worlds apart," the actor said. "[But the sickness is] going to be what they needed to try to put the pieces back together."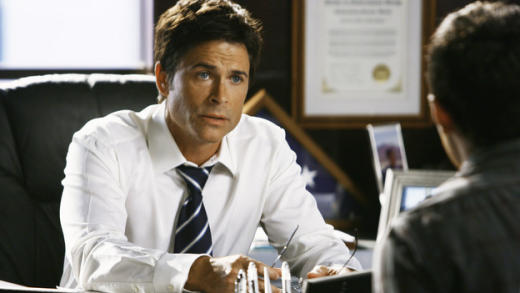 Do you wanna see Robert and Kitty together? Or are they better off apart?
SPEAKING OF KITTY, FOLLOW THIS ARTICLE'S JUMP TO WATCH HER AND NORA IN A SCENE FROM THE NEXT NEW EPISODE OF BROTHERS & SISTERS.
[video url="http://www.tvfanatic.com/videos/clip-from-brothers--sisters/" title="Clip from Brothers & Sisters"] [/video]
Matt Richenthal is the Editor in Chief of TV Fanatic. Follow him on Twitter and on Google+.