This was probably our favorite episode yet of The Good Wife, for a few reasons:
On the surface, the show is your basic legal procedural. However, there's always the overriding theme of Alicia's status and Peter's affair. This week's installment - titled "Crash" and recapped on our site - combined these elements very well.
Juliana Margulies is fantastic. Mark it down: she's getting nominated for an Emmy.
Perhaps it's the Sex and the City fan in us, but Chris Noth is believable as the arrogant womanizer you can't entirely hate.
It would be easy for the series to depict a merely adversarial relationship between Alicia and Jackie and/or Alicia and Cary. But, as showed well last night, it sets up these interactions in a more realistic, intricate manner.
What do you think? Is The Good Wife the best new show on television?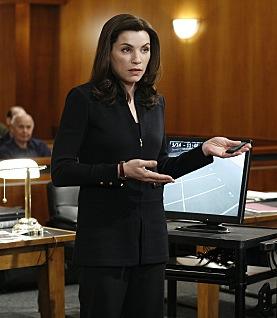 Matt Richenthal is the Editor in Chief of TV Fanatic. Follow him on Twitter and on Google+.