Californication Review: "So Here's the Thing..."
LL at . Comments
Welcome to the mid-season slump! Talk about a boring episode! In the most recent episode of Californication, "So Here's the Thing," Hank almost breaks up with all of his campus affairs, but he doesn't succeed at all... so the 29 minutes of the show is pretty much a bunch of failures in communication - but not at all funny. There weren't even any witty one-liners this episode! Snore!
And iconic actor Peter Fonda made a cameo as one of Sue Collini's most important clients. There really was no story line here - he threatens to join another agency, and then concedes within 5 minutes - all within the same scene. Zzzzz...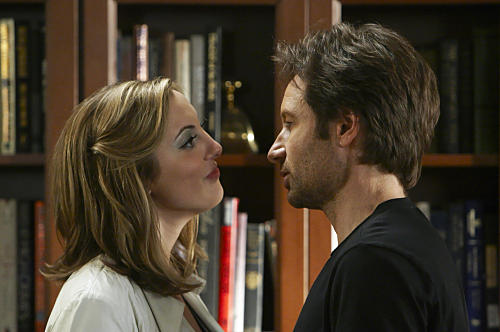 Ah, yes! There was one redeeming moment of the episode! During Hank's unsuccessful break-up lunch with Jill, she sees her ex boyfriend who wasted years of her life (and most importantly, her reproductive golden years) in a relationship with her and who had dumped her because he wasn't ready for marriage.
But she almost dies when she sees him with a woman donning a huge diamond engagement ring. Hank's performance is stellar - he walks up to this "egg waster" and pretends to be his former lover informing him of STDs he may have passed on to him during their relationship! Silly Hank - those heroic acts won't really work in your favor is you're trying to get the girl to dump you!
We hope that next week we'll turn in the bore for some more of the man-whore and his usual shenanigans. Check out our recap of tonight's episode and let us know what you think!
As for our favorite Californication quotes from the hour, we've listed a few below...
Becca: Actually Dad, yes, this house is a bordello, because that's how it's run by you. | permalink
Hank: I do some of my best work from the bottom. You know why? Hands free - it's like sexual blue tooth. | permalink
Sue: You're Runkle, you'd whack it to a cat dancing on YouTube. | permalink