The Cristina-Jackson kiss last week on Grey's Anatomy shook up one of the romances we'd grown accustomed to rooting for on the show, which was the entire point. The question is whether we like it, and whether we're even supposed to know that yet.
Is this being introduced as a minor stumbling block for Cristina and Owen, or is there more to it? Is the "chemistry" some fans are talking about a bit overblown this early on?
Here's what E! has to say about the surprising sparks flying between those two, as well as the latest goings on with the awesome known to fans (or at least us) as Calzona ...
Q: Forget Owen and Cristina on Grey's Anatomy! Give us some scoop on Cristina and Jackson!
A: Look at you with your contrarian point of view! If you are rooting for Cristina-Jackson, you'll be happy to hear that Jesse Williams his scenes are mostly with Sandra Oh and Chyler Leigh:
"It seems to be Cristina and also Lexie [that I spent most time with], just because our characters did spend that whole episode together last week."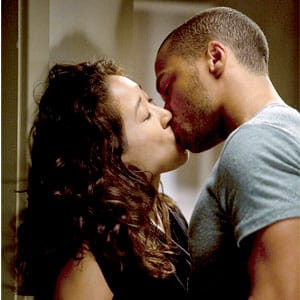 Sounds like a definite case of unresolved sexual tension, as well: "Right when we started, Jackson and Cristina did the opposite of hit it off; immediately they had confrontation with each other, but I do think there is an underlying mutual respect and wariness there that will carry on."
Q: I loved last week's episode of Grey's Anatomy, especially the scenes between Arizona and Callie! They are becoming my favorite couple on the show. What's the scoop on them coming up?
A: According to the lovely Ms. Jessica Capshaw, "I don't have a view of what's around the corner, but it feels like they're in a nice place. I would be lying if I didn't say this is a one-hour drama - of course there's gonna be drama, there has to be - but so far I don't know where the drama or the conflict will be coming from."
"Right now, I think they're just in a very sort of loving relationship and all the good things that come with a new relationship and trying to figure it out."
Thoughts? Opinions? Sound off in the comments!
Steve Marsi is the Managing Editor of TV Fanatic. Follow him on Google+ or email him here.