Grey's Anatomy Round Table: "I Like You So Much Better When You're Naked"
Steve Marsi at .
Welcome to TV Fanatic's Grey's Anatomy Round Table discussion! Below, our panelists break down some of the burning questions we're left with after Thursday night.
Topics for our "I Like You So Much Better When You're Naked" Round Table include Derek going too far (or not), Alex and Izzie being over (or not) and a whole lot more:
1. What was your favorite Grey's Anatomy quote from the episode?

M.L. House: Arizona and Lexie drooling over how Mark can "make anything sexy." You can say that again, ladies! Better yet, don't say a word: just show it.
Mrs. Northman: Meredith: "Number one rule of surgery is limit exposure. Keep your hands clean, your incisions small, and your wounds covered. Number two rule of surgery is when rule number one stops working, try something else. Because sometimes you can't limit exposure, sometimes the injury is so bad you have to cut, and cut big." Gotta love Mer's words of wisdom.
iheartizzie: Owen: "People do matter. I matter. We matter."
L.J. Gibbs: AZ: "I have a cure for a headache that doesn't involve coffee." Wowza.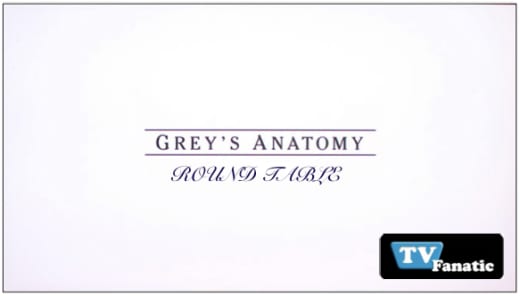 2. Do you agree with how Derek handled things with the Chief?
L.J. Gibbs: I do. The end justifies the means as far as I'm concerned, and someone had to intervene. Derek may be unpopular, but Bailey's major concerns about the Chief and Owen's rationale for doing what saves the most lives tell you everything you need to know.
Mrs. Northman: No! I thought McDreamy would've been more sensitive to the Chief, but at the end you see he handled it the way he did for his own selfish reasons. And I mean, really what do you think would have happened by pouring a glass of alcohol and placing it in front of a drunk. That's just mean.
M.L. House: Yes. It was adorable for Meredith to yell "Post-It" and everything, but let's be real: Richard was putting lives in danger and you can't solve marital disputes by just saying the words "marriage certificate."
iheartizzie: That's not easily answered. He obviously had concerns about Richard anyway, and was right to step in on behalf of patients who could be at risk. But Derek was clearly bitter on a personal level as well, and overstepped his boundaries with the alcohol stunt.
3. Can Cristina and Owen's strained relationship survive?
Mrs. Northman: I definitely believe that Cristina and Owen's relationship will survive this. C'mon people! It survived him almost killing her, it can survive this.
iheartizzie: Gosh I hope so. They have some of the best chemistry on all of TV, and lately, Sandra Oh is turning in Emmy-worthy material on a weekly basis.
M.L. House: It's not a question of surviving. It's a question of how much hotter it can get! If that make-out session is the result of a "strain" on a relationship, I've gotta go tell some dude he can have my wife!
L.J. Gibbs: Unclear. I'm still very worried about this Teddy girl and her motives.
4. Will - and should - Izzie and Alex get back together?
M.L. House: No, they will not. No, they should not. Alex said it well last night: Go away, Izzie, and never come back.
L.J. Gibbs: Maybe I'm in the minority but I think they have always been great together and will eventually find their way back to each other, even if happily ever after is a long way off.
iheartizzie: Here's the thing. I heart Izzie like no other, but we've already been through a full season of debating whether she'll be gone (in a different way) within a matter of months ... Enough! Let's get some resolution one way or another here!
Mrs. Northman: I don't think Izzie and Alex should get back together. It's like beating a dead horse. Let him move on to Lexie or someone else and let Izzie leave the show already!
5. Did Mark overreact to Lexie's confession?
L.J. Gibbs: He did, however in his defense, Lexie broke up with him prior to that. He found comfort in Addie, and while she did the same with Karev, he clearly views it differently.
iheartizzie: Perhaps. I can't decide if Mark's history with Addison and genuine (albeit short-lived) interest in moving to L.A. to be with her makes his dalliances better or worse.
M.L. House: Yes, but it was a natural overreaction. He probably went home and knew he invoked a pretty basic double standard, but who among us hasn't been guilty of that?
Mrs. Northman: Hmm... I go back and forth with this one. He did sleep with Addison as well - and they have a huge history together, but Lexie did break up with him right before his daughter was about to have a very risky surgery, then slept with Alex that same night. That's pretty cold. So, my final answer would be no. I guess he kind of had a right to be that mad.
Will Mark and Lexie get back together?
Steve Marsi is the Managing Editor of TV Fanatic. Follow him on Google+ or email him here.