To kick off the 16th edition of The Amazing Race on February 14, the teams will be dropped in Los Angeles.
Overall, contestants will visit five continents and eight countries in total. Challenges will include reenacting a World War I battle in France; retracing the early days of the Beatles; and meeting up with what CBS refers to as "one of the world's most infamous villains."
But we're getting ahead of ourselves. Who will actually be competing on the new season? A cast photo and player descriptions are below...
Dating: Caite Upton, model/actress; Brent Horne, model/advertising
Co-workers: Louis Stravato, undercover detective; Michael Naylor, undercover detective
Father/Daughter: Steve Smith, professional baseball coach/World Series champion coach; Allie Smith, marketing
New couple: Jeff Schroeder, salesman; Jordan Lloyd, receptionist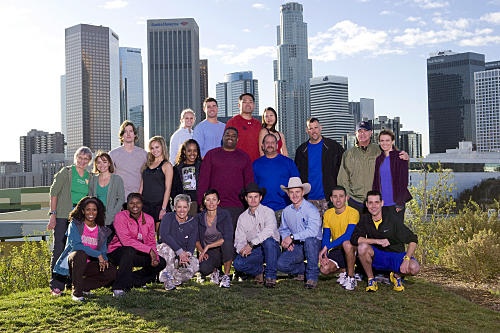 Friends: Monique Pryor, attorney; Shawne Morgan, attorney
Brothers: Jet McCoy, cowboy; Cord McCoy, professional bull rider
Married: Adrian Davis, medical sales; Dana Davis, marketing manager
Grandmother/Granddaughter: Jody Kelly, personal trainer; Shannon Foster, health-care outreach contract/analyst
Dating: Carol Rosenfeld, consultant; Brandy Snow, actress and voice-over artist
Brothers: Dan Pious, financial adviser; Jordan Pious, strategic consultant
Married: Joe Wang, software salesman; Heidi Wang, stay-at-home mom
Matt Richenthal is the Editor in Chief of TV Fanatic. Follow him on Twitter and on Google+.