Let's be honest, The Bachelor star Jake Pavelka is not exactly a smooth operator. He seems like a good dude, just one completely ill-equipped to handle reality show drama.
Despite the contrived "returning for the right reasons of his own accord" nonsense to help Jillian last season, Jake always seems out of place. Week Three was no exception.
Follow the link above for a full recap of last night's super-catty action. Below, we've got some of the highlights from a drama-filled week on ABC's long-running reality show.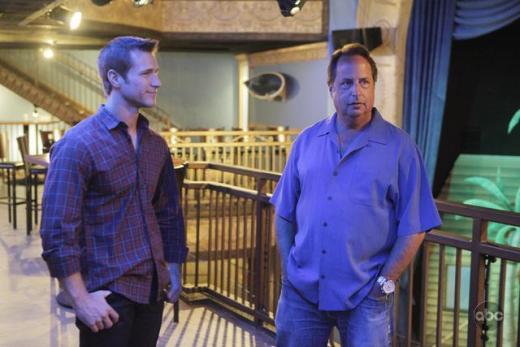 Jake and Jon Lovitz mull things over.

Comic genius. A Bachelor staple is plugging something completely random. Jon Lovitz's comedy club certainly fit the bill. The girls' stand-up comedy routines? Raw pain!

Going through it together. Jake and Vienna went bungee jumping to "overcome their fears as a couple." Who met last week. And who is jumping off a bridge by choice.
Third wheel action. Jake's date with Ella at Sea World featured the arrival of her son. That was very cute, though we feel a bit bad for the kid, since she's not gonna win.
B!tches. Seriously, we know that a dozen women fighting over the same guy can't end well, but they all seemed particularly pathetic, desperate and catty this week, right?
Roses were given to Vienna, Ella, Gia, Corrie, Tenley, Ali, Jessie, Kathryn and Ashleigh. Eliminated: Valishia, Elizabeth, Michelle and 80 percent of this writer's brain cells.
Steve Marsi is the Managing Editor of TV Fanatic. Follow him on Google+ or email him here.