Grey's Anatomy Round Table: "Valentine's Day Massacre"
Steve Marsi at .
Welcome to TV Fanatic's Grey's Anatomy Round Table discussion! Below, our panelists break down some of the hot topics and burning questions from Thursday evening.
Topics for our "Valentine's Day Massacre" Round Table include memorable quotes, Alex and Lexie, cute Bailey, Mercy Westers growing on us, and missing Izzie (maybe) ...
1. What was your favorite Grey's Anatomy quote from the episode?

M.L. House: As someone who thinks the Meredith/Derek Post-It marriage is a contrived attempt for the show to seem cute, I loved Alex's line to the former: "You're just saying that because you think you're married."
iheartizzie: Tie between Meredith telling Derek to make it up to her with sex, and McDreamy's "if you don't feel the losses... then you're not cut out for this kind of work."
L.J. Gibbs: Any exchanges between Bailey and Arizona, but particularly this: "Bailey, where would you go on a first date?" Miranda: "Isn't their a dying child somewhere?"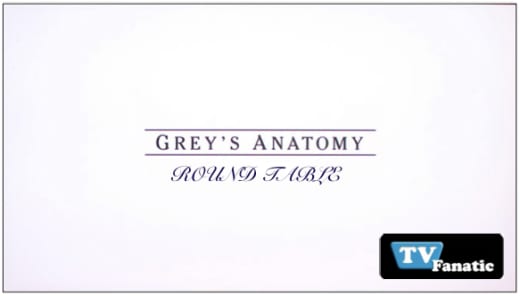 2. Alex and Lexie: Hot or... not again!
L.J. Gibbs: Mark said blondes are either bad ass or fun, and Lexie couldn't pull it off. Talk about making your his eat his words! Wonder what he'll do if he finds out ...
iheartizzie: The fact that he's still married bugs me a little. I love Alex and Izzie together and hope there's a future there. No offense to Lexie but I'm going with not.
M.L. House: It would have been better if Lexie weren't sporting that hideous hair color, but spontaneous sex in a supply closet? That's never not hot.
3. Did you miss Izzie?
iheartizzie: I heart Izzie, so yes. I'm a little curious how she's going to be brought back into the fold and whether there's a lot of support for her among viewers still, or if people have moved on altogether. I'd love to hear more fan feedback on this.
M.L. House: Who?
L.J. Gibbs: As much as I do, these absences have been great for Alex. He's out of control, and even as he's flailing emotionally, he's funnier than ever. Team Karev!
4. More adorable: Bailey when she has a crush or a puppy?
M.L. House: I don't care if it's Golden Retriever mixed with a Lab, sprinkled with a baby's smile... I couldn't get enough of the typically calm and collected Bailey stammering through a mere conversation with the hunky gas man!
L.J. Gibbs: Hmm. If it's a Golden Retriever, then the Golden Retriever. If it's a Pug or something, then Bailey. Sorry, small dog owners ... and Bailey. I give up.
iheartizzie: Definitely Bailey. Dogs are cute, but when she gets flustered at the thought of the anesthesiologist hottie and razzed about it by Arizona? Classic.
5. Are the Mercy West staffers growing on you?
L.J. Gibbs: It was good to see April back. Sarah Drew is a cutie, and her emotional scene with Chief McDreamy at the end was one of my favorites all night.
M.L. House: Not really, with the notable exception of Jackson's line about his body. Can we get a visual next time, instead of just a verbal description?
iheartizzie: I personally think Jackson is a good character. We got to see his human side a little more last night, and I loved how he bucked up Lexie!
Steve Marsi is the Managing Editor of TV Fanatic. Follow him on Google+ or email him here.