Grey's Anatomy Round Table: "Sympathy For the Parents"
Steve Marsi at .
Welcome to TV Fanatic's Grey's Anatomy Round Table, in which our esteemed panelists discuss hot topics and some burning questions from Thursday's episode.
Topics for our "Sympathy For the Parents" Round Table include memorable Grey's Anatomy quotes, kids (current and future), family members and much more ...
1. What was your favorite Grey's Anatomy quote from the episode?

M.L. House: Two baby-related Grey's Anatomy quotes from Dr. Yang tie this week in my book: 1. Cristina: (to Teddy) "You want to have kids?" Callie: "You don't?" Cristina: "Have you met me? No!" 2. Cristina: "I hate men, they're stupid." Meredith: "Derek asked me to have a baby with him this morning." Cristina: "Really stupid."
Mrs. Northman: Bailey: "If you are going to wait for the perfect time to have kids - you're never going to have kids." This quote speaks volumes! I couldn't agree with Bailey more.
L.J. Gibbs: Mrs. Northman's chosen quote was going to be my choice as well, since it was recently true in my own case! But in the interest of mixing it up I'll borrow from Meredith:
"You can waste your whole life wondering, but the only way to find out what kind of parent you'd be is to finally stop talking about it and just do it." Amen, sister.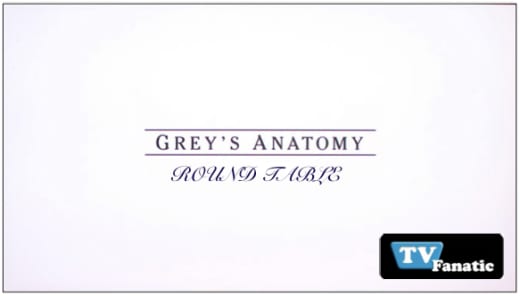 2. Mark and Teddy together: Fan or not a fan?
L.J. Gibbs: I recognize the whole angle with Mark wanting to settle down and all, prompted by Sloane's entry in his life, but I'm not really feeling all that much chemistry here. It feels like a diversion from the tension under the surface with Owen, but maybe that's just me?
Mrs. Northman: Not a fan! Really, the writers should try to find someone new for both of them. I even think they aren't too into it either. Both seem to be just doing it for the kicks.
M.L. House: Not a fan. I want her to myself!
3. Will Owen get the help he needs?
Mrs. Northman: I hope so! I really like Owen and think he's a pretty stand up man. I really hope he doesn't cheat on Christina! I'd rather them break up than cheat on her.
M.L. House: If he keeps snapping at Cristina like he has been, he's going to need some, otherwise this relationship is headed for an ugly, emotional end. Hopefully it won't...
L.J. Gibbs: As we said in our review, what a tangled web this guy weaves. He clearly needs some help talking about things bothering him mentally and relationship-wise.
4. Did you like meeting Aaron? What Grey's Anatomy character's family member or members would you like to see next (either ones we've already met, or have not)?
M.L. House: Mark Sloan. The mother who raised that guy must be a real character. As for one's we've met already, I wouldn't mind Cristina's mom making another visit.
Mrs. Northman: I liked Aaron! He played the doe eyed brother really well. It explained so much about Alex and why he is the way he is. I would love to meet Derek's family - we really don't know all that much about his history besides Addison and Mark.
L.J. Gibbs: How about Derek's? Last night's Private Practice notwithstanding, there's still so much McDreamy back story to explore, and he's my favorite character.
FAMILY REUNION: The Karevs come to blows.
5. Besides Sloane Sloan, which character will have a child first?
L.J. Gibbs: Here's an out-of-left-field theory: Cristina. Maybe I'm influenced by the supposed pregnancy spoiler going around, but I think after last night's discussion, it's the last thing we'd expect. She can still have children after the miscarriage, right?
M.L. House: Callie and Arizona. Okay, probably Mer and Der, but I'd love to see a scene in which Calzona argues over which of them will physically carry the child ... and/or over who the biological father will be. Something tells us Mark would be down!
Mrs. Northman: It will have to be Meredith, unless April does something wicked to her. Gosh, that chick really grinds my gears!
Steve Marsi is the Managing Editor of TV Fanatic. Follow him on Google+ or email him here.