Brothers & Sisters Spoilers: Time Jump Ahead!
Steve Marsi at .
It's a technique numerous other shows have used to press the reset button a bit - the time warp. Same characters, years in the future, with gaps to be filled in later.
Brothers & Sisters won't be making an extreme warp, but the series will move forward 12 months between the May 16 season finale and the Season Five premiere.
Executive producer David Marshall Grant reveals to EW why they're doing it - or most likely doing it, in any case. Excerpts from the show-runner's interview below:
Q: What are the advantages to leaping forward?
Grant: We all know that Rob Lowe is leaving ... [so Kitty] is going to be single next season. It's going to be more of a nod to where we were in the first season with her dating.
When you add the possibility of jumping a year, it could be really good ... at this point the odds are strong that we will do [a jump] or something like that to shake us up.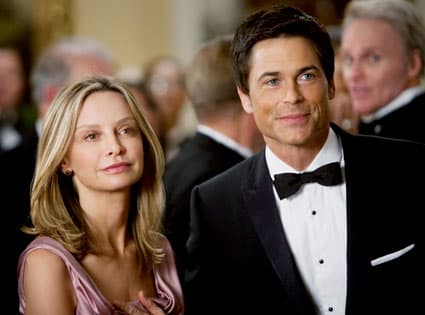 Q: Now that it's been done on Desperate Housewives, Battlestar Galactica, and Lost, it feels like it's becoming a bit of a gimmick. Is that a concern?
Grant: That's a problem with TV in general in the sense that it's very hard to come up with something new. So much has been done over the years - and done well.
You always battle that "it's been done before" notion. If it's executed in a way that creates new and exciting stories, it becomes worth it and people forget it was done before.
Q: With Gilles Marini returning as a series regular in the fall, is it safe to say Sarah would be more settled in her relationship with Luc after the jump?
Grant: Yes. We'll be exploring Kitty as a single woman and Sarah and Luc as a couple.
Is the Brothers & Sisters time jump a good idea to transition characters coming, going and evolving, or just a stunt? Share your thoughts!
Steve Marsi is the Managing Editor of TV Fanatic. Follow him on Google+ or email him here.