Grey's Anatomy Round Table: "Shiny Happy People"
Steve Marsi at .
Welcome to the TV Fanatic Grey's Anatomy Round Table, in which our panelists discuss the hot topics and burning questions from the previous episode and beyond.
Topics for our "Shiny Happy People" Round Table Q&A include memorable Grey's Anatomy quotes, Owen and Cristina, who Lexie should be with, and the shooter's ID ...
1. What was your favorite Grey's Anatomy quote from the episode?

L.J. Gibbs: Callie's inspirational words, inspired by patients: "You don't want fifty years to go by and realize that you let the love of your life get away. So go - try!"
M.L. House: "All I'm saying is that you could have a husband." Any time Mark Sloan proposes, he wins Quote of the Week. That's a rule I live by.
Mrs. Northman: My favorite quote was Ben's - Now woman, I am naked and I look good. Are you going to sit there and lecture me or are you going to let me take you into my bedroom and have my way with you. Gosh! Is he a hunk of a man, or what?!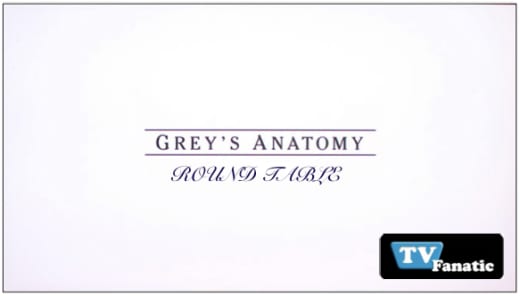 2. Which patient's story touched your heart most this week?
L.J. Gibbs: Betty and Henry. Something about this octogenarian romance worked for me. Partially just newness (there aren't too many octogenarian romances on TV), but it was great.
M.L. House: It may be the Jonas Brothers-loving tween in me, but give me Demi Lovato or give me death! She was fantastic.
Mrs. Northman: The patient that had half of her face burned off. That is really sad - especially because it was caused by something we all do - texting and driving. What a wake up call!
3. Bailey and Ben: Will it last?
L.J. Gibbs: You'd think if this romance were going to fizzle out, they would have just let this one fade away, Izzie style, with no on-screen resolution. With this week's developments, Ben is either going to become a bigger fixture or meet a tragic end.
M.L. House: This may be off the map, but I'm gonna take a wild guess and say no. Ben will bite a bullet (literally!) in the season finale.
Mrs. Northman: I hope so! We know Ben is going to leave to be on another show, but it is so nice to see Bailey with someone as hot as Ben!
4. Who do you want Lexie to end up with?
L.J. Gibbs: Mark. Alex's "I'm turning into a duck" bit can't compare with Mark's quasi proposal: "I'm still in love with you. I tried not be, but it didn't work. And Sloane's gone, there is no baby, and I don't want to sleep around. I want another chance." Say yes, girl. Say yes.
M.L. House: Mark. Karev may be trying to be a duck, but let's face it: he's a goose, or whatever bird can't actually settle down and remain loyal because his wife just filed for divorce. Mark is finally ready to commit.
Mrs. Northman: I go back and forth about who I want Lexie to be with - right now, it's Alex. Last week, Alex was so great to her. This week? He tells her sister that he is a duck. What gives?
5. Should Owen and Cristina break up?
L.J. Gibbs: My colleague M.L. House will invariably point to the lack of a suitable couple name as the reason for Owen and Cristina's problems. Well, I've got a nickname for just him: Samsonite. I know love is complicated, but this guy's got so much baggage, it's ridiculous.
M.L. House: Absolutely. Oistina? Cwen? These two were doomed the second we couldn't come up with a couple's nickname for them.
Mrs. Northman: Yes, Owen and Cristina should break up and she can get it on with Jackson! Owen clearly has far too much baggage!
Should Cristina run far away from Owen and his issues?

6. Looking ahead to the season finale: Who is the shooter?
L.J. Gibbs: The Ghosts of George O'Malley and Denny Duquette, seeking revenge on the doctors who couldn't save them. Just kidding ... the show would never do anything that ridiculous (close, though). In all seriousness, when the slow-motion bullets fly on Thursday evening, it won't be courtesy of anyone we've met up until now.
M.L. House: Probably the same dude that took down Burke a few seasons ago.
Mrs. Northman: April is the crazy shooter!!! Wouldn't that be something? That or Mr. Clark - the obvious choice.
What do you think? Weigh in with your own answers/comments!
Steve Marsi is the Managing Editor of TV Fanatic. Follow him on Google+ or email him here.