Ahead on Entourage: Trouble for Vince, A Happy Engagement for Eric and More!
Matt Richenthal at .
An Entourage movie is almost definitely on the way - but before producer Mark Wahlberg and company can bring these boys to the big screen, there's the little matter of season seven.
The cast got together this week and spoke to E! News about what viewers can expect on new episodes, which kick off again this Sunday night. Take it away, gentlemen... and lady!
Adrian Grenier: "It's been a great season for me as an actor because Vince is getting into trouble. He needs help. Like there's an emotional side to Vince that comes out with a fury."
Kevin Connolly: "You will not see a wedding, but the engagement is going very well."
Emmanuelle Chriqui:  "[This season] is really just embracing the fact that we're together and that the drama is over. Just being OK with being domesticated a little bit - in a good way, because we've never seen that with them. It's very sweet."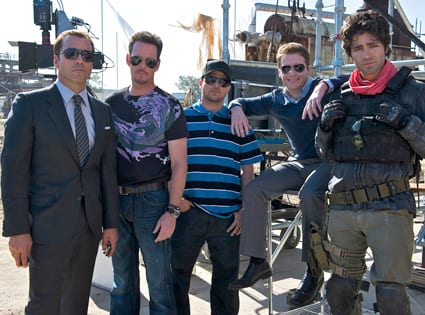 Kevin Dillon: "Drama had a holding deal at the end of last season and now he's trying to get a job before that holding deal expires."
Jerry Ferrara: "The growth of the character is definitely more than any other season, and he's trying to stand on his own a little bit more... He starts his own business, a limo company with beautiful woman driving the cars."
Are you excited for the return of Entourage? TV Fanatic will cover the show in depth each week, so visit the site often for an updated section of Entourage quotes and more.
Matt Richenthal is the Editor in Chief of TV Fanatic. Follow him on Twitter and on Google+.