The third season premiere of True Blood set the stage for events and storylines to come, but it didn't introduce viewers to many new, key characters.
That will change this Sunday night, as James Frain debuts as Franklin Mott, a vampire that gets involved with Tara. What is this blood sucker's agenda? Why does he have an interest in Bill's secrets?
Frain dished on his character in an interview with TV Guide this week. Excerpts from it are below...
What can he tell us about Franklin: Mott is a private eye. We learn later in the season that he works for Russell, who is the King. He's been sent on a mission to dig up information on Bill. His attention is completely distracted by the charms of Tara.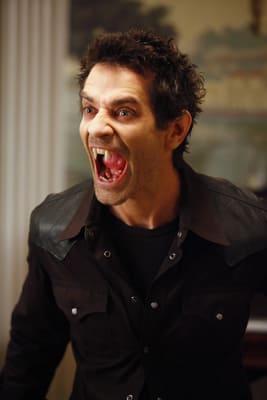 On Bill's importance to everyone this season: For Franklin, Bill is just a job, so he's no more interested in Bill than any of his other assignments, but there are lots of unanswered questions about Bill, so Franklin will focus on getting the information on why he's there, what he's doing, and whether he doesn't have ulterior motives.
Where is season three going? It's heading toward some kind of confrontation between those who claim to represent the vampires. There are two different camps that emerge between who the vampires are, who they can be and whether it really is sustainable to live alongside human beings. That's the arc of the season.
Matt Richenthal is the Editor in Chief of TV Fanatic. Follow him on Twitter and on Google+.