ABC viewers are excited for tomorrow night's premiere of Rookie Blue because it's been billed as Grey's Anatomy in a police station.
Is this an accurate assessment? That question was posed to Missy Peregrym - who plays officer Andy McNally on the cop series - by TV Addict this week and she replied:
"The only way I can relate our show to Grey's Anatomy... is that they're both very character driven and not incredibly procedural. There are five rookie cops and their training officers, and we really focus more on the relationships and the pressure involved with training for something where you're never actually prepared for the real-life situations until they happen."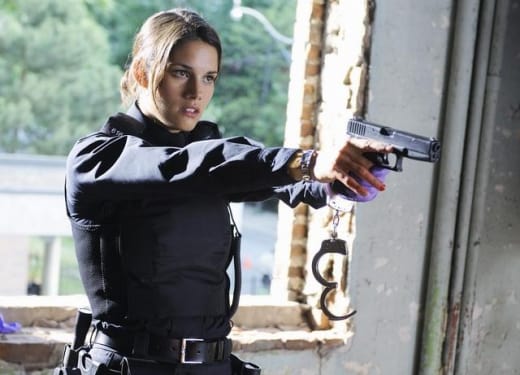 Elsewhere in the interview, Peregrym dished on what attracted her to Rookie Blue and the character she plays on it:
On accepting the part: I loved the script so much when I read it, and after meeting the producers, I was sold on it completely. I was so excited about what their ideas were for the show and where they wanted to take it. It's been amazing and such a cool collaboration where everybody who is on the show really understands their character, so it's a lot of fun to work on.
On Andy McNally: Andy comes from a family of cops. Unfortunately her father didn't exactly handle the pressure in the best way, which was one of the motivations for her joining the force. She wants to redeem her father's name. Also, she's just a really good person with great intentions. Things don't always work out for her, but she wants to do good thing, wants justice and wants to protect people.
Will you give Rookie Blue a chance? TV Fanatic will be covering it in-depth, so return here Friday morning for a complete recap and review!
Matt Richenthal is the Editor in Chief of TV Fanatic. Follow him on Twitter and on Google+.