It was a big day on Rookie Blue Season 6 Episode 11, as Sam and Andy finally made it the church to exchange their vows. 
Below, TV Fanatics Allison Nichols, Elizabeth Harlow, Whitney Evans and Christine Orlando join together to rate the McSwarek wedding, decide which character they wish were staying at 15 Division and share their hopes about another season of Rookie Blue...
Rate Andy and Sam's wedding on a scale of 1 (worst) to 10 (best).
Allison: I'm giving it an 8.
Elizabeth: 6.5 or 7. The reception was a little too Pintrest-y with the mason jars...and I didn't get why everyone was wearing grandpa sweaters to the reception. It was nice, but if this had been on Four Weddings, they would not be winning a honeymoon.
Whitney: I also didn't quite get the weird reception vibe, but overall I thought it was a nice wedding and I'd give it a 9. They have always been a low key couple, so I guess it worked for them.  
Christine: It wasn't over the top, but it fit Sam and Andy. I thought it was great that their friends and family were there to celebrate with them. I would have liked to have seen a little more of the reception, but overall, I'd give it a 7. 
Duncan, Nick and Juliet are all moving on from 15 Division. Would you take any of them back? 
Allison: Nick. I would take Nick back in a heartbeat. I love him so much.
Elizabeth: I like Nick too, and Juliet was growing on me, but if the show is renewed, there will be plenty to focus on with the new rookies. The problem with ensemble shows is that when they get too big there's literally not enough time to do everyone justice. 
Whitney: I like Nick, he's always felt like a natural addition to the show. Duncan was better this season, but it's not like he will be missed. And Juliet who? I already forgot about her. 
Christine: I loved Nick but I'm not sure there was room at 15 Division with all of the other characters to focus on. Once he was no longer dating Andy, he kind of felt adrift. Duncan and Juliet I didn't really care about very much.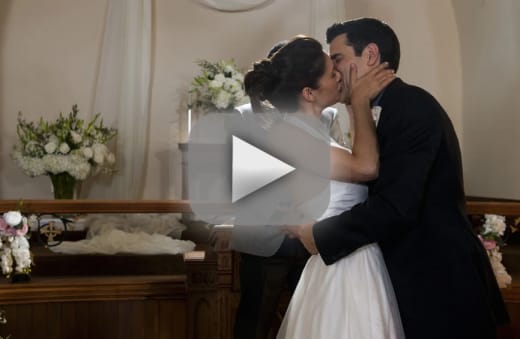 If you were in Andy's shoes, would you have turned around to arrest the guy in the red convertible on your wedding day?
Allison: I wouldn't, but it makes sense that Andy would. It's very Andy McNally. I would also not have been wearing my dress around. Andy was working some kind of black magic because somehow she managed not to get any blood or dirt on her dress. I would not have been that lucky.
Elizabeth: No, I would have called somebody who was actually in charge of that jurisdiction, after dropping the girl some place safe. The guy was lucky it was Andy on that road and not me.
Whitney: I agree with Elizabeth. I would have called someone and let them handle things. And you're so right about the wedding dress, Allison. I'm not married so correct me if I'm wrong, but wouldn't you get dressed at the church? It was bothering me that she was just strolling around in it.  
Christine: No, I probably would have called someone else, but as Allison said, this is Andy McNally so it made sense. As for the dress, not every church has a changing area, so her wearing it there didn't bother me, but Celery must of put a protection spell on that gown to keep it that clean.
What one storyline or issue do you wish they would have spent more time on?
Allison: I would have loved to see a little bit more of the new rookies, maybe all the training officers grabbing their rookies and taking them to the squad cars. I wish we could have seen how everyone handled their first interaction with their rookies.
Elizabeth: I just wish Traci, Gail, and Chloe had something better than that stupid accidental death thing to deal with. I'd have like to have seen the girl get caught and Sam's truck recovered I guess. That story felt a little disjointed and unresolved to me.
Whitney: I can't really think of anything, honestly. I felt like a series finale to me and I thought considering how the season went, everyones storylines were pretty much wrapped up. 
Christine: I felt like Dov and Chloe's reconciliation could have been explored more. I felt a little cheated that we didn't see more of them together. 
Was there anything in "74 Epiphanies" that disappointed you?
Allison: There were some loose ends. What happened to Starr? Duncan talked about tracking Andy's car, but he stopped when he found Andy. Also, what was the point of the case Traci was working on? It just felt like a waste of time. We could have been doing fun wedding things instead or there could have been more time at 15 with the new rookies.
Elizabeth: Aside from my usual petty frustrations (why did she not immediately radio for an ambulance when Duncan showed up?), I'd also say that there was a lot of wasted time. I was okay with the new rookies not being a focus and that being the end scene, but more time wrapping up other characters would have been good. And for the love of god, what did they name that baby?!?!
Whitney: I knew it was coming from the previews but I wasn't loving the whole "Where Is Andy?" angle of the episode. With all the angst and accusations of running away McSwarek has faced, it would have been nice to not have to go through that on their wedding day. 
Christine: I wish the wedding and reception would have gotten more air time, and as Elizabeth said, what is that baby's name?!?
What was your favorite quote or scene from this episode?
Allison: The vows! I was crying. They were very Andy and Sam, and I thought they were perfect.
Elizabeth: I'm gonna say Oliver's running monologue at the end. The whole scene was a nice call back to when they were rookies, and it was just a good way to show that life always goes on...even if the show doesn't get renewed. 
Whitney: Yeah, it's definitely the vows. They were everything a McSwarek fan could want. 
Christine: I'm with Elizabeth. I thought Oliver's monologue pulled it all together. 
ABC has yet to pick up Rookie Blue for another season. Do you think the show should end here or do you want to see more?
Allison: I think if this was the series finale, this was a very fitting end. I would love to see all of our rookies as training officers though. I mean can you picture Gail training someone? 
Elizabeth: Of course I want more! But if it doesn't get renewed, this episode works really well as a series finale.
Whitney: It felt like the end and if it is, I think they went out on a very good note. It will be super odd to not have them fill my Thursday nights next summer, but we got six seasons of a very good show and that doesn't happen all the time. 
Christine: I want more! Don't get me wrong, if this was the end, at least they did it well, but there's still a lot of story to play out for these characters, and I hope we get to see it. 
C. Orlando is a TV Fanatic Staff Writer. Follow her on Twitter.