At the Smallville panel this weekend at Comic-Con, the show's cast and crew prepared fans for the show's final season. Among the changes on the way:
A farewell to Allison Mack as Chloe, and the unveiling of the super suit. What else is in store when Smallville returns with new episodes on September 24? The panel revealed....
A new villain: "This year we have a little different twist on the villain," said executive producer Brian Peterson. "We're bringing in Darkseid, but he's going to come in a little different form than you're used to seeing, so we're going to switch it up a little."
The return of Tess Mercer: This character will help Clark and Oliver at Watchtower, as Cassidy Freeman told TVGuide.com: "There's a huge secret from her past discovered in mid-season that is going to come back, that she tries to keep from people, but it's really going to change things around for her. This twist is going to define whether or not she's destined for goodness or badness."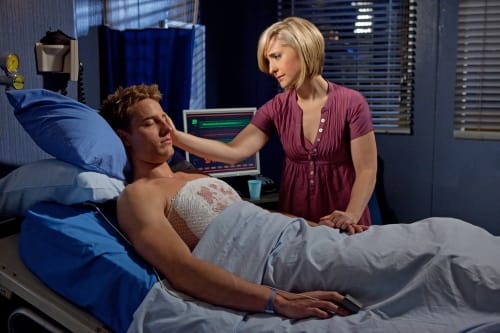 The exit of Chloe: How will Mack leave the show this season Peterson said it will wrap the storyline "in a way that's fitting for Chloe."
The return of... We already know John Schneider will reprise the character of Jonathan Kent. Also on tap: James Marsters as Brainiac, Michael Shanks as Carter Hall and Jessica Parker Kennedy as Plastique.
The arrival of Superman: Clark Kent will become Superman by the end of the year. "There are some people who don't like the fact that we've waited this long to do the suit or become Superman," said Tom Welling. "You also have to understand that if we had done that in Season 1, we would've been done. The fact that we've lasted this long is because we've struggled and tried to put off the inevitable this long."
Matt Richenthal is the Editor in Chief of TV Fanatic. Follow him on Twitter and on Google+.