When Amelia Met Derek: Caterina Scorsone Reveals Grey's Anatomy-Private Practice Crossover Details

Steve Marsi at . Comments
Grey's Anatomy. Private Practice. The worlds cross over again October 7.
At the center of this latest Shonda Rhimes-created event? Caterina Scorsone, who plays Amelia Shepherd, sister of Derek. She says we can blame Addison for this one.
No, really.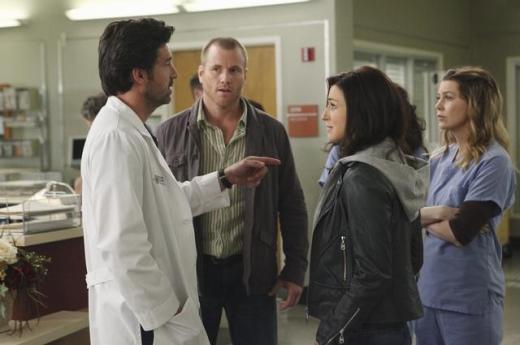 "Basically Addison kicks her in the keester," the actress tells E! Online of the siblings' awkward reunion. "Amelia has been kicking and screaming and doing everything she can do to avoid the inevitable, but Addison somehow convinces her that she's gotta go to Seattle."
"[Derek and Amelia] have been at an impasse for years after their father's tragedy," Caterina Scorsone says. "She has some pretty bad behavior and Derek's got his quirks. I'm not going to give Amelia all the blame, but there's some cathartic movement in that relationship."
In addition to bringing
Grey's Anatomy
and
Private Practice
characters together again, this should offer some new insight into the mind of the former's leading man.
"You find out a lot about Derek," Scorsone promises. "That's one of the things that'll be interesting for a lot of people who have been watching the show for years, myself included. You really get to find out about that tragedy that's colored both of our lives ever since."
"We were young when we witnessed our father's murder, and so fans really get to learn about that. Amelia is pretty focused on Derek and trying to mend that relationship," the actress continues. "And I'm really happy with how it all went."
We can't wait. Both shows premiere Thursday at 9 and 10 p.m., respectively.
Steve Marsi is the Managing Editor of TV Fanatic. Follow him on Google+ or email him here.