As teased last week, House will soon hire a replacement for Thirteen.
At Cuddy's behest, the team will take on a female named Martha Masters, played by Amber Tamblyn. This medical student will face a considerable challenge when she first arrives in Princeton-Plainsboro, as teased by producer Katie Jacobs to TV Guide:
"Considering how horrific House is to doctors, just imagine him being your first mentor. Her first challenge is: Can she stay on House's team?"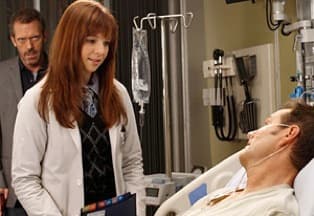 Tamblyn will debut on the season's sixth episode and deal with a patient played by Jack Coleman, as seen above.
"I'm the case of the week, so I worked with almost all the doctors, including Amber, who was fantastic," said the former Heroes star. "I think people are going to love and relate to her role - a socially awkward kid who was always a little ahead of everyone else."
Matt Richenthal is the Editor in Chief of TV Fanatic. Follow him on Twitter and on Google+.