A lot of events finally happened this week that had been a long time coming: We saw the background of Michael and Nikita; Nikita finally got taken down (not for long, of course); and Michael helped Nikita bring down the Red Circle Triad, who was under the protection of Division.
My hope for Michael and Nikita teaming up is closer to happening now that Michael is learning Percy's keeping secrets. Who didn't cheer when Michael showed up in Hong Kong to help Nikita? Finally! Great chemistry again between Shane West and Maggie Q on "Rough Trade."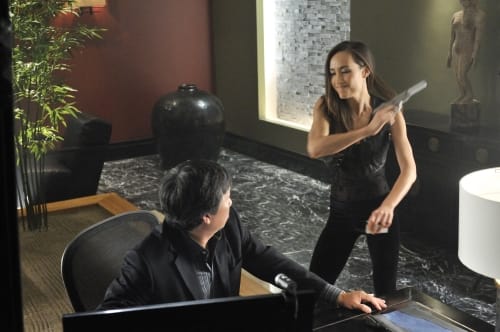 Nikita being tased really gave the show some realism, as I was beginning to think this woman was indestructible, and never going to be beaten, or taken down in any way. We were never made aware of if Nikita knows that Alex used to be a sex slave in Russia, but that fact that this episode channeled Nikita bringing down a sex slave unit in Hong Kong seemed to be very fitting.
Because Alex's lied about her flashback with the fire, we never learned exactly what happened. I hope we do at some point.
Alex is becoming very sketchy... and I don't like it at all. I started out this season loving her and having high hopes for her and Nikita, but she's becoming more standoffish and less open with Nikita every week, always going with "it's all good," instead of telling her what's actually being done to her.
I understand Alex has lived through a lot, but Nikita knows Division better than she does. Michael seems to be more on Nikita's side than Alex lately. Granted, Alex was being held captive by Amanda for the majority of the episode, something she should have told Nikita.
This installment also earned quite a few gasps. Who would think Victor was still alive, let alone using his American family as a cover and running such a disgusting business? Amanda knows Alex is hiding something, and this woman is vicious. I feel sorry for Alex already, thinking of what she'll do to get the truth out of her.
What did you think of "Rough Trade?" We've listed a few Nikita quotes from it below:
Nikita: I can't believe I ever thought you were cute.
Victor: I can't believe I never had my way with you.
Nikita: Couldn't handle me then, couldn't handle me now. | permalink
Amanda: I'm proud of you Alex; you really do remind me of Nikita. | permalink
Michael: OK, so where is this place?
Birkhoff: The quarters for the Red Circle Triad in New York. Not much going on right now but at night it turns into a pretty happening spot. Lady Gaga was there last Friday. | permalink
Victor: Nikita. I was told some crazy bitch burned down my factory, I wasn't sure. | permalink