Meredith and Derek are not married. Sorry. They're in love and will probably be together forever, but the Post-It nuptials are not marriage material, technically. That said ...
According to E! Online's spoiler Q&A, in the 11th episode of this season (this week will mark the seventh), somebody's getting married on Grey's Anatomy - and get this:
It's "a rushed, justice-of-the-peace-officiated, city hall wedding ceremony."
Could the Post-It wedding be getting upgraded? Or is it someone else?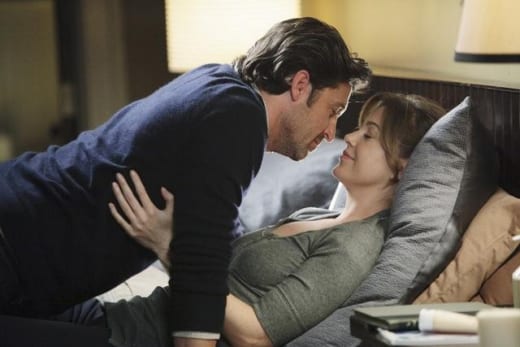 Will Meredith become Mrs. Shepherd for real this time?
As for another popular couple subject to great speculation these days, Callie and Arizona aren't going far. We will see lots of Sara Ramirez's Callie throughout November sweeps.
She even cozies up with Mark next week in "Something's Gotta Give." Could she be changing teams again? Probably not, but ... this is Grey's Anatomy. Would it shock you?
It looks like she's back to work at the hospital by episode 10. As for Jessica Capshaw's Arizona, she's set to return to the set "very soon" from her real-life maternity leave.
Basically, don't expect too big a Calzona disruption this fall. Hopefully.
Steve Marsi is the Managing Editor of TV Fanatic. Follow him on Google+ or email him here.