The sad news was broken to Life Unexpected fans yesterday: The CW has not ordered any new scripts for this series, making it very likely that the show will come to an end in a few weeks.
But show runner Liz Tigelaar does wish to be clear: "Not being picked up is different than being canceled," she told E! News.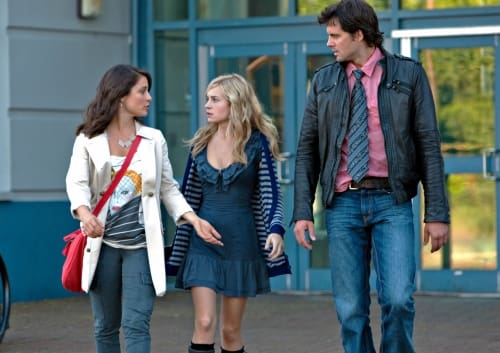 Still, this sort of situation rarely results in a renewal for a new season, which is why Tigelaar also says she's penning the final episodes with a goal of wrapping various storylines up. She elaborates:
Each season has had an arc to it - like the first season starting with a proposal and ending with a wedding - and this season will have an arc to it as well. The stories that we started in the premiere will resolve in episode 13. We won't be able to do the ending we would have [originally] planned, but I definitely believe we'll be able to do an ending that makes people feel really satisfied.
Does this mean Cate and Baze will end up together?
We're figuring it out. It's a balance between not wanting to do something that's not organic to the character's journey in the episodes we've seen, but wanting to give fans the satisfaction of what the series has promised. And I'm confident that we're going to be able to do it. This season we really wanted to lay the groundwork for a friendship between Cate and Baze, and then if down the road they get together, you understand why.
It's not just based on the past; it's based on the present love and respect for each other. Season two has been all about earning their friendship, and really seeing them parent Lux together. And we're going to make it a beautiful ending.
** You tell us, readers: How would you end Life Unexpected?
Matt Richenthal is the Editor in Chief of TV Fanatic. Follow him on Twitter and on Google+.