TV Fanatic Mid-Season Report Card: Brothers & Sisters
Steve Marsi at .
With most prime time shows on hiatus, TV Fanatic is taking a look back at some buzzed-about programs and grading their performance this fall, with a look toward 2011.
Yesterday, we profiled 90210. This morning, Brothers & Sisters.
Best episode: "An Ideal Husband." Shocked and appalled as we were by Scotty cheating, and even though infidelity had been tackled more than once on this show before, the handling of Scotty and Kevin's marital problems was superbly done.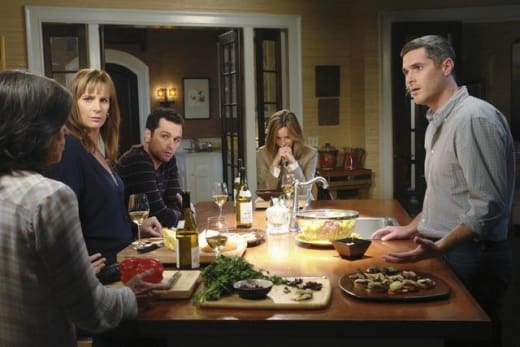 There was no quick fix. There are still problems. But each admitted fault in a complex situation that had been brewing for some time, while agreeing to move forward together. In doing so, Kevin and Scotty proved why they could be TV's most realistic couple.
Worst episode: "Faking It." The show struggled to find its groove early in the season and gave us some predictable, filler stories without enough trademark humor, either.
Best character: Nora. Always the Walker family glue, the matriarch has branched out and become an even bigger force as she's come into her own this season.
Most misused character: Sarah and Kitty. We LOVE how strong these women have been over the years. That's what makes some of their low-stakes story lines and the writers' often uneven portrayals of them so frustrating at times.
Best storylines: Nora's new career, Kevin and Scotty's marital problems, and Saul's identity crisis, even if the latter hasn't gotten nearly enough air time.
Worst storyline: The season-opening one-year time jump. Some things changed too drastically, other things not enough. Unnecessary and mishandled.
Hopes for 2011: Kitty's relationship with Seth (or someone else) to get more interesting. Sarah finding a little joy in her life. More Saul. Fewer disjointed, filler episodes and more longer, overarching stories that connect the family as a whole.
Overall grade: C+. Flashes of brilliance, but very up-and-down.
Agree with this assessment? Disagree? Weigh in now!
Steve Marsi is the Managing Editor of TV Fanatic. Follow him on Google+ or email him here.