In a move that continues to signal a creative drought in Hollywood, ABC gave a green light to a revamp of the classic series Charlie's Angels last week. It evidently wasn't enough that the Angels had a brief and rocky resurrection on the big screen.
"Reboots," as they've come to be known, seem to be all the rage these days. Occasionally, these revised attempts hit just right, such as the pitch perfect Battlestar Galactica and this season's Hawaii Five-0. As is more often the case, though, the results either scrape by (V, 90210) or are flat out failures (Knight Rider, The Bionic Woman).
It doesn't appear this wave is going to collapse any time soon, either, as attempts to bring back other series such as The Incredible Hulk and Wonder Woman are reportedly in the works. 
With everyone and their brother tossing in their two cents as to who should be recruited to the latest roster of Angels, it got my overactive imagination thinking how cool it might be to see some of our favorite television actors pulled together in some of these classic settings, no matter how far-fetched an idea each may be. To wit:
Charlie's Angels -  Grace Park, Katee Sackhoff, Tricia Helfer
Park may already be patrolling the beaches of Hawaii for terrorists, but how incredibly geektastic would it be to pull this trio of amazing ladies of Battlestar Galactica back together as Charlie's newest band of battling beauties?  A triumvirate of awesome, these women not only possess just the right amount of brains, brawn and sex appeal to perfectly embody the classic Angels archetype, but also the acting chops to keep the franchise from turning into a campy cheese-fest.  
Scarecrow and Mrs. King - Josh Holloway, Evangeline Lilly
In the original, divorced mother Amanda King is inadvertently thrown into the spy game when "Agency" operative Lee Stetson (aka Scarecrow) asks her to deliver a package to a man in a red hat. I can't think of anyone better than Holloway, who has both the swagger and the dimples to carry the spy torch left behind by Bruce Boxleitner. Mrs. King was slightly on the inept side, but if the role were tweaked a bit I could definitely see Lilly as a more capable, tougher version of King.  The chemistry between Holloway and Lilly was scorching on Lost and if these two were reunited like this, I have no doubt the results would be phenomenal. Extra points if the original Mrs. King, Kate Jackson, came in to play Amanda's mother, Dotty.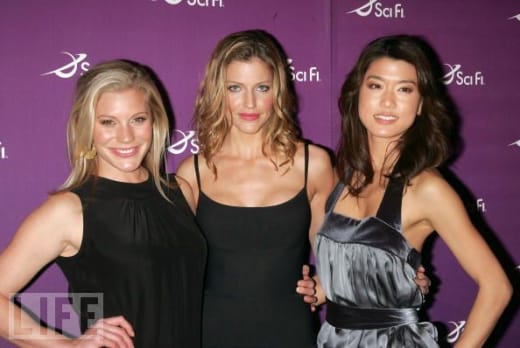 Simon & Simon - Scott Foley, Scott Speedman
I think Felicity alums Scott Speedman and Scott Foley would make a perfect fit to play the two brothers, each the polar opposite of the other, who go into business together as private investigators. I can already see Speedman as Rick in a straw hat chugging beers on the back of the boat in A.J.'s yard, while Foley sips a glass of wine on his fine leather sofa and listens to Tchaikovsky. Watching these two butt heads would be a fun throwback to the days when each would vie for Felicity's attention, but could also be a cool buddy dramedy in the vein of today's White Collar and Hawaii Five-0.
Buck Rogers - Adrian Pasdar, Ali Larter
I'm of the mind that Adrian Pasdar would make an outstanding Buck Rogers. He's got the looks, but also an austerity about him that would seem to fit a harder version of the character. Ali Larter is about as far from Erin Gray as you could get for Wilma Deering, but somehow I think she could pull it off. I'd hope, though, for a more serious take (no space vampires or Hawkmen please) along the lines of the modern take on BSG versus the slightly campy tone of the original.
Murder, She Wrote - Jennifer Garner
Who says Jessica Fletcher has to be a "golden girl?" This may seem like a the biggest stretch of the bunch, but I say turn the series on its ear and make Jessica a younger, sexier murder mystery writer who moonlights as a sleuth, and has also been receiving death threats from a crazed fan. The latter would add another layer to the series, giving Fletcher, and Garner, some extra depth and emotions to work through, as long as the writing was superb.
Sanford and Son - Bill Cosby, Malcom Jamal-Warner
Wouldn't you just die? Cosby is likely too highbrow a choice to play Fred Sanford, but how hilarious would it be to see him play the world's most notorious hoarder spouting off sarcastic nonsense at Jamal-Warner's Lamont? If Phylicia Rashad could cameo as Aunt Esther, it would be icing on the cake. Admit it - you have "The Streetbeater" playing in your head right now.
What about you? Can you think of any other combinations of classic series and actors who would fit the molds?  Please, let us know in the comments below and be sure to follow me on Twitter.
Jeffrey Kirkpatrick is a TV Fanatic Staff Writer. Follow him on Twitter.