What does the future hold on Nikita for Michael and the show's title character?
Nothing concrete, Shane West tells Entertainment Weekly.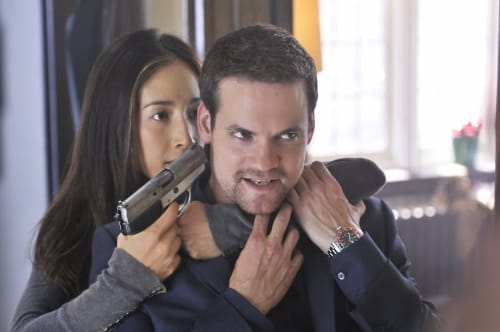 Asked by the publication about any romantic possibilities with Nikita, West didn't exactly give an easy answer to parse. He (not so) simply replied:
"You're going to see Michael and Nikita grow apart, but you're also going to see them grow back together in ways I can't explain... Regardless if they're on speaking terms or not, they will continue to run into each other. You're going to see them work again together. You're going to see Michael be a lot more harsh and insensitive to Nikita, but you're also going to see reality come back in that they still do care for each other.
"And they're going to have to do one last crazy mission with some people who I don't want to tease. And you're going to see a lot of flashbacks potentially from when Michael and Nikita were together."
So we should prepare for some growing apart, coming together and a few flashes to the past? Good to know. On a more immediate basis, here is your first look at Thursday's new installment.