As Kevin Peyton on Nurse Jackie, Dominic Fumusa works with an Emmy winner; alongside two hilarious actors; and on a series that focuses on the struggles of a marriage.
In this TV Fanatic exclusive, the actor talks about life as the husband of a drug addict...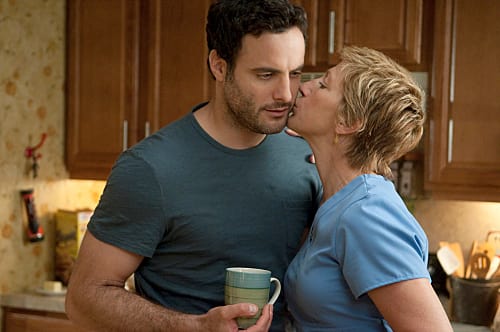 Did you do any research to get into the role of Kevin? Did you talk to any spouses of drug abusers?
No, not specifically. I guess for two reasons: First, my character is very much in the dark, at least was, and still to a certain extent is... [Jackie] is so good at lying about it, that he just doesn't know what to believe. He loves his wife. There's a part of him that gives her the benefit of the doubt, but obviously that part is getting smaller and smaller as we go along.
I think we all know enough people in our personal lives that have gone through various addictions. I felt that, in general, I had a good sense of what it was about, but every case is different. I don't think research would have been useful.
Why does Kevin stay with Jackie? Neither of them seems especially happy with the other.
That's a valid question. I think they were happy and they were at one time very much in love. Whether or not that will ever come back, who knows. I think it's fair to say right now they're both struggling and don't seem too happy in the relationship. That being said, they have the two girls and we all know that because of kids, rightly or wrongly, marriages often stay together longer than they would otherwise... think Kevin loves her and wants it to work out, but the way it's going now, it doesn't look good.
Talk about working with Edie Falco.
She's amazing. She is down to earth, great sense of humor, and is really great to work with on a daily basis. On top of that, she's just phenomenally talented. I feel very lucky. To be paired with her has been wonderful. I enjoy going to work everyday, and she's a big reason why. She definitely has a dry sense of humor, and she is very funny despite what she said in her Emmy speech. She doesn't have a false note. She's always real and truthful. She's the real deal.
Is it possible for anyone to keep a straight face around Peter Faccinelli?
[Laughs] He's pretty funny. He has a wonderful quality about him with his humor. Meredith Weaver is the same way. They're constantly finding new ways to make it fresh. They always add something you'd never predict. I love the whole cast.
What can we look forward to this season?
There's definitely some surprises coming our way. I think Linda and Liz want to make sure there are consequences to Jackie's behavior and I will say that by the end of Season 3, some big stuff happens. It's not exactly what you would predict, but that's what's great. They're always staying one step ahead of the audience. As time goes on, my character will become very dark. Kevin started out as someone who seemed almost too good to be true. Obviously, he was not aware of his wife's infidelity or drug use, and he becomes more suspicious and his behavior changes. He becomes more aggressive and takes things into his own hands. From the family side, it's going to get very painful. The OCD is a wonderful way of showing that kids are affected by their parents' behavior. All of that gets richer. It's already painful, and it will only get more so.
Nurse Jackie airs on Showtime on Mondays at 10PM ET/PT.