SPOILER ALERT: if you have not seen the season finale of The Mentalist, stop right now, go fire up the DVR and/or read our review of an incredible episode, with a truly shocking conclusion.
Okay? Ready? Then read what creator Bruno Heller had to say about how Patrick Jane's actions will impact season four:
"Patrick has just murdered a man in cold blood in front of hundreds of people and next season he will be tried in court. We won't dodge any issues. Patrick won't wake up and discover it was all a dream. There will be consequences."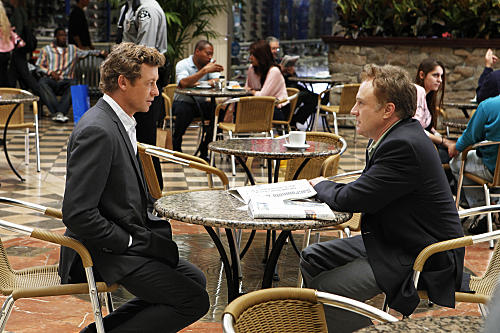 Star Simon Baker also spoke to TV Guide about his character's violent, illegal, startling action, describing Jane's decision as follows:
"I think it was a brilliant choice to have the murder happen in such a public place. Bang! Bang! Bang! Then Jane's totally calm. People are running around in a panic. Jane just sits down and has his cup of tea. It's done. He's finally done what he needed to do. After this season, you're going to have the lead character on a network TV series being a cold-blooded, vengeance-killing murderer. That's heavy."
Read the full interview at TV Guide.
Matt Richenthal is the Editor in Chief of TV Fanatic. Follow him on Twitter and on Google+.