For the third consecutive season, Nurse Jackie bid farewell without any major consequences befalling its title character. It's been a frustrating trend for a show that seems content with the status quo.
But executive producer Liz Brixius objects to that assessment - "She lost her marriage. Her job's in jeopardy. She's compromised everybody around her." - and tells viewers to be on the lookout for how two relationships affect Jackie next year:
Her friendship with O'Hara.
Her connection with Kelly.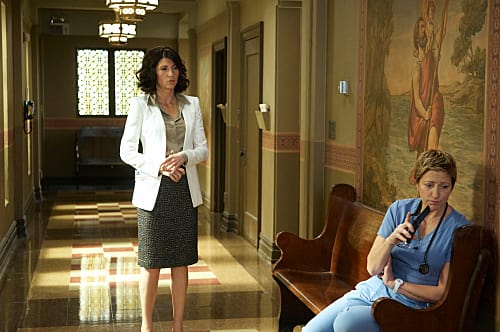 "O'Hara bought a townhouse and she probably bought it for a reason," Brixius tells TV Guide, hinting that another relationship may take her focus away from her friend's addiction. "There's not going to be less O'Hara, but there is going to be less availability of O'Hara to Jackie."
As for Kelly, who admitted to Jackie that he's not the saint he has pretended to be...
"I will tell you that you don't know everything there is to know about Kelly Slater. Jackie is not smarter than he is. All we know is that he has successfully pulled the wool over everybody's eyes... He's a chameleon. He's working it. No matter who he's talking to, he's working in it. He's always got an answer — and that makes him dangerous."
Read the full interview now at TV Guide and sound off: What did you think of the finale?
Matt Richenthal is the Editor in Chief of TV Fanatic. Follow him on Twitter and on Google+.