USA Network is kind of on a roll. Last season, it debuted Covert Affairs and Fairly Legal to strong ratings and mostly positive reception. This time around, it has hit the mark once again with two new scripted offerings: Suits and Necessary Roughness.
I've seen the pilots for both shows in advance, and I'm quite impressed. I wasn't expecting to be, frankly. Legal shows don't usually grab me (though you do have to pry me away from the television during The Good Wife) and the sounds of cheering crowds and hands slapping against pigskin lull me right off to sleep.
Neither show really brings anything new or groundbreaking to the table, but each fits squarely and easily into USA's growing slate of charming, carefree summer programming. This week, I'll share my thoughts on what is personally my favorite of the pair, Suits, saving Roughness for another day.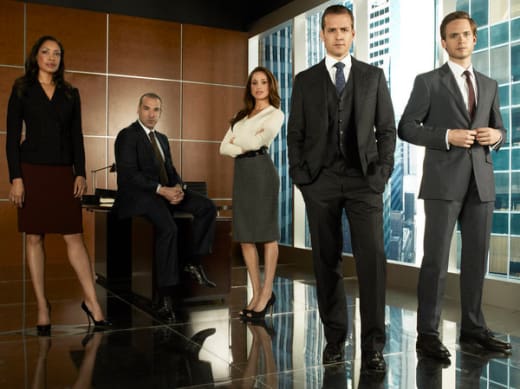 Formerly called A Legal Mind (a more fitting title in my opinion, but changed to avoid confusion with Fairly Legal), Suits comes to us from the producers of Covert Affairs, and plays sort of like a White Collar-meets-Fairly Legal hybrid.
By that, I mean it has the bromantic charisma and wit of the former set against the legalese backdrop of the latter (otherwise, it has nothing much in common with either). It's crisp, clean and perfectly tailored to the USA Network formula, if you'll forgive the pun.
As Harvey Specter, high powered attorney at the firm of Pearson Hardman in Manhattan, Gabriel Macht looks like
Wall Street
's Gordon Gekko and carries himself with a bit of George Clooney's "I know I'm a handsome man" swagger. Harvey is good, he knows it, and he's not afraid to let everyone in the room know he knows it. He also makes it very clear that personal welfare is his first and foremost priority. He's kind of a jerk, albeit a very dapper and beguiling one.
On the other hand, Mike Ross (Patrick J. Adams), is a young man with an eidetic memory and a bad choice of companions who fell into a life he never intended. Spending his days either stoned or bouncing from one scam to another in order to make a buck, it's evident that he is good-hearted and aspires to more, but opportunity's knock has always eluded him. A desperate situation forces him into one even more precarious, ultimately landing him in a makeshift interview with Harvey who is reluctantly seeking a new junior associate.
You can sort of intuit where the story goes from there, but that doesn't make it any less enjoyable to watch. What sells this show, at least as far as is discernible from the pilot, is the brotherly relationship that starts to develop between Harvey and Mike. While Harvey will serve as a mentor to Mike professionally, there's no question each brings something to the table from which the other can benefit.
Macht and Adams have fantastic chemistry and play off one another in a manner like that of Clooney and Matt Damon in the Ocean's films. Some of the otherwise drier aspects of the legal cases are made palatable due to appeal and performances of these two leads.
In particular, like Matt Bomer and Chris Gorham before him, I think Adams is set to become this year's USA Network breakout star. He's one of the most watchable actors I've seen in some time, and his blend of docile, lightly sarcastic confidence with a wide-eyed naivety is the perfect contrast to Macht's audacious, arrogant alpha-male. There is a hint of possible romance between Adams' character and that of Meghan Markle's smart and sexy paralegal Rachel Zane, even though she initially cuts him off at the knees.
The high-caliber supporting cast is also made up of some familiar faces, notably Rick Hoffman as Harvey's main rival at the firm, the deliciously serpentine Louis Litt, and the always alluring Gina Torres as their no-nonsense boss Katherine Pearson. Both carry their roles as handily as you would expect, yet even though I know this is a legal show I would give anything to see Torres work in a roundhouse kick just ONCE.

I also liked Sarah Rafferty as Harvey's spunky secretary Donna, who adds a little wise-cracking humor in her smallish role.

As continues to be the case, USA Network, with their "character-driven" mantra, has done an impeccable job of matching the perfect just-under-the-radar actors with the right character roles. The result here is a fun and engaging series that I definitely recommend checking out.

Suits premieres at 10/9c on USA Network Thursday, June 23 following the season premiere of Burn Notice.

Follow Jeffrey on Twitter @TVOnMyTerms.
Jeffrey Kirkpatrick is a TV Fanatic Staff Writer. Follow him on Twitter.