Sasha Alexander told us that Dr. Maura Isles will entertain many suitors on season two of Rizzoli & Isles.
Following a finale that saw Angie Harmon's Jane Rizzoli get shot, what else can fans expect from the return of this series? The second season kicks off tonight, and TV Guide has revealed the following spoilers/teases for what's on tap. Read at your own risk...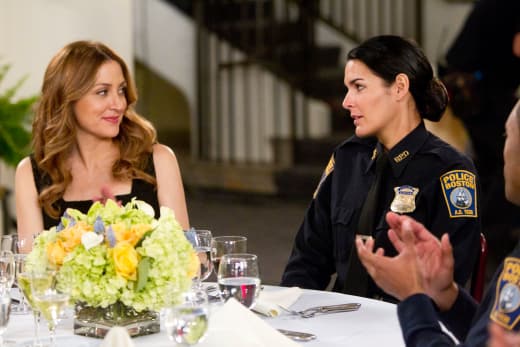 An emotional recovery: Rizzoli will be fine physically when she returns to work. But "this season is more about who she is emotionally and the cracks in her armor," Harmon says.
Motherly mayhem: Maura will be dealing with two mothers this season: her birth mom moves in after a nasty divorce, and we meet her adoptive mother, played by Jacqueline Bisset. Expect a "dark side" to come out when we learn more about Maura's family, Alexander says.
Brotherly boon: Expect "surprises" from Jane's brother, Frankie, Harmon previews, along with the introduction of Colin Egglesfield as Jane's other sibling, Tommy. Might he get it on with Maura?!?
The ladies' love lives: Chris Vance appears on tonight's premiere as a military man who has known/crushed on Jane for years. Later in the season, viewers will meet the individual Alexander describes as "the love [Maura's] life." He's a doctor in a third world country.
Visit TV Fanatic the moment the season two premiere concludes for a detailed Rizzoli & Isles review!