Justin Chambers Weighs In On Grey's Anatomy Future
Steve Marsi at .
ABC has announced that Desperate Housewives will end after its eighth season in May 2012. Is the end of the road approaching for Grey's Anatomy, as well?
Creators Shonda Rhimes has said bluntly that Grey's will not end after its eighth campaign next spring, but the stars' uncertain contract situations remain.
Justin Chambers is the latest cast member to discuss the series' future.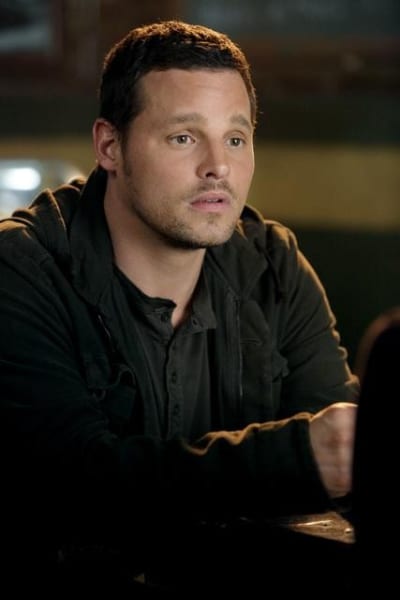 "It makes me sad to know that we're closer to the end [than the beginning]," the actor who plays Alex tells TV Line. "[But] it's been a great ride. It really has."
"There was no better job that I could've fallen into."
Like Patrick Dempsey and Ellen Pompeo, Chambers is unsure about whether he'll sign a new deal for a ninth season, even there's even a show to return to.
"I don't know if I'll go farther," he says. "I don't know if the show will go farther. When we get to that point, we'll go from there. It's going to end sooner or later."
"It's just about ending well and the audience getting what they want."
What would that entail, if this were a last hurrah of sorts? "Maybe there are some amends made with the characters, because they're all very flawed."
If the original cast members, whose contracts expire at the end of Season 8, don't return, might some of the newer additions anchor the medical drama?
"It's possible [it could go on], but I doubt it," Chambers says. "Meredith is the voice of the show We need that voice - I do think that. That's a big part of it."
Rhimes concedes that "I don't presume to speak for the studio or the network," but at the same time adds, "I don't think this is the last season of the show."
ABC president Paul Lee said only that "Hopefully, [it] is going to go on for many, many years to come." Regarding the stars' expiring contracts, he says:
"We don't have to face that for some time."
If nothing else, this is going to be one memorable swan song for the cast and fans. The second hour of Grey's Anatomy's September 22 season premiere will be its 150th episode. It's hard to believe it's been that many, with hopefully another 50-100 more to come.
Steve Marsi is the Managing Editor of TV Fanatic. Follow him on Google+ or email him here.