Following a lengthy hiatus, Glee returns tomorrow night with the first of all-new episodes in November, all of which will offer viewers an intriguing development or two. For example: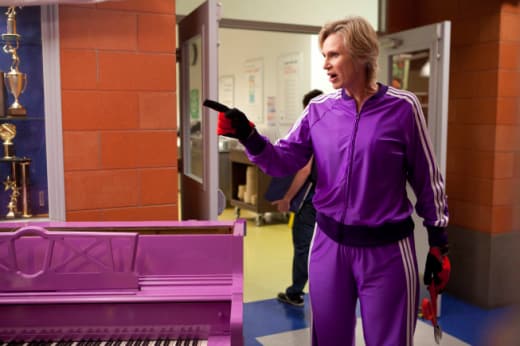 Damian McGinty debuts tomorrow night as Rory, a foreign exchange student who admits: it isn't easy being green.
Then, on November 8, at least one character will lose her virginity.
Now, we can confirm another major storyline on tap for the following week: as first reported by TV Guide Magazine, the November 15 installment will take viewers into the past of Sue Sylvester and reveal the basis for her hatred of musical theater.
It turns out, producer Ian Brennan reveals, that Sue "at one point had Broadway dreams." But they were crushed as a 16-year old when a critic savaged her performance in Oklahoma!.
Look for actress Colby Minifie to take on the role of a young Sue and for fans to learn why this character now wants to "punish the world" as a result of her past, according to Jane Lynch.