The hundreds of thousands of contestants have been whittled down to just 17, but before preparing ourselves for next week's two and a half hour live show, let's take a look back at what has, and more importantly, has NOT been working on the first season of The X Factor.
We all know that Simon Cowell wanted to create this show for America, and destroy his former series American Idol in the ratings. Taking a look at last season's Idol numbers (much lower than a few years ago), the episodes prior to the live shows brought in anywhere from 21 to 26 million viewers. Up to this point The X Factor has garnered only nine to 12.5 million viewers... not world beaters by any means.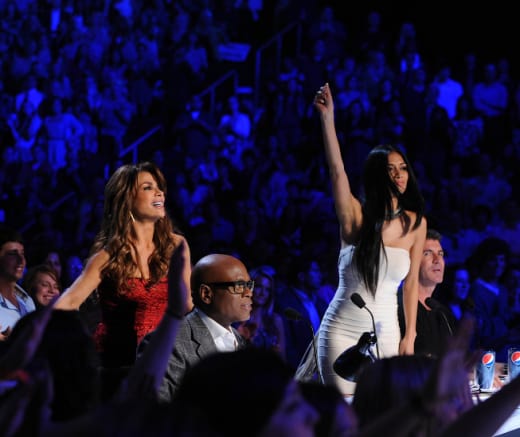 Why hasn't it done as well? The name recognition and history of Idol for starters, but more importantly the television landscape has become saturated with singing and talent competitions. Between Idol, America's Got Talent, The Sing Off, The Voice, and now The X Factor, you can't turn around without another season of singers gracing your TV screen.
It was great when once a year you could tune in to see some of the best up-and-coming singers in America challenge for the coveted title of American Idol. Now every few months we witness another watered down group of acts, and it's tiresome.
What is X Factor's most disconcerting problem, though? It has done nothing to stand out from the pack. Simon and company kept saying it wasn't going to be Idol, but up to this point it has been pretty darn close. There is Simon. There is Paula. There were those awfully played out audition episodes. Oh, and instead of "Hollywood Week" there was "Boot Camp." It was the same thing.
Even when they did their best to differentiate from Idol the show still managed to look reminiscent of other singing competitions. Doing their auditions in front of an arena of fans was nice, but America's Got Talent has been doing that for a while. Splitting the finalists into groups with each judge as a coach? That sounds eerily like The Voice (Simon's idea for this came before The Voice aired, but that doesn't mean America still won't think The Voice did it first).
The one legitimate thing X Factor has done to stand out is to make their groups into categories (boys, girls, old people, and groups). The problem lies in the fact that the boys and girls have been exponentially better than the other two groups at this point, and they would have found much more talent by just taking the best 16... like Idol does.
All of those early problems aside, I still have managed to stay hooked, and was even excited for the live shows to start. That is, until a few of the judges made some of the worst decisions in singing competition history. I understand that they want to select the people that will make for the best television, but don't most fans want to watch good singers compete for the title? Not homeless men who will make it through one week of screeching before getting sent packing?
Let's now take a look at some of those decisions, starting with Nicole Scherzinger. I understand that the Cheryl Cole situation left them strapped, but anyone who watched the first two seasons of The Sing Off could have told you this was a bad choice for a judge. What has she cried, 50 times already? She is too emotional, which is why she (or the producers) chose Dexter Haygood as one of the old people. She wasn't working with much in that category, but Dexter was the only one out of the bunch that didn't even deserve to make it past his first audition.
L.A. Reid has made the best impression thus far, proving to be a less mean version of Simon, who seems to have much more industry savvy. He really couldn't have gone wrong with his choices, as the boys had the most depth of the four categories. Would I have switched one or so? Maybe, but I have no complaints with my new favorite judge.
Paula is Paula, and her return to judging has been fine so far. I'm definitely looking forward to her nonsensical ramblings when the live shows start, but for now she's just been coasting. I have no issues with her choices for the groups, mostly because there was no way they weren't going to send through the two groups they created themselves. Did InTENsity seem pretty bad? Yup, but oh well.
The major crimes were committed by Simon last week. Coming into The X Factor I thought that the above-the-world persona of Simon Cowell that he adopted over his final few seasons on Idol would have had time to pass. I wanted to believe he would start fresh and genuinely look for contestants that he thought had the best chance to succeed.
Unfortunately, it seems he is back to his old ways, keeping contestants that he strangely enjoyed at auditions (Simone, Tiah) over seemingly phenomenal performers (Caitlin, Melanie). Fortunately for Melanie, Simon went back on that poor decision. The same fortunes were not there for Caitlin Koch, who I thought had potential to win this whole thing. But because the other judges liked her more than Simon at the original auditions, the cranky Brit sent her home.
Although I'm glad that Melanie is back in the competition because she is obviously a rare talent, I was too upset by the entire dog-and-pony show Simon put on to actually be happy for the girl. The entire thing was so blatantly planned in advance, and was so horribly acted out by Simon, that it was extremely tough to watch. He really is getting too big for his own good at this point. Simon was best in his up-and-coming days when he could sit behind a desk, say "that was dreadful," and move on to the next contestant. Sadly, those days are over.
The worst part of all of this is that the anger I feel towards The X Factor, and at what went down during last week's episode, just makes me want to watch more. When it comes to these singing competitions, no matter how peeved I get at the judges or America, I keep coming back again and again. And that sure isn't going to change right now.
Join me following each live episode of The X Factor this season as I dissect what antics made me cringe, which contestants performed the best and how handsome host Steve Jones looked.
Dan Forcella is a TV Fanatic Staff Writer. Follow him on Twitter.