TV Fanatics decided on television's Sexiest Male Sidekick last week, and the results weren't even close. Now, it's time for the ladies to represent!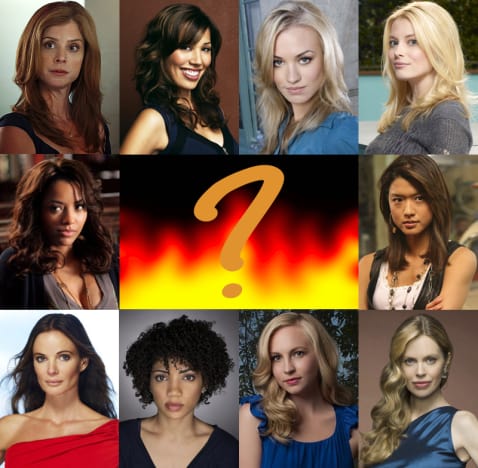 Thanks to nominations submitted by loyal readers, the gorgeous field is set, as the following 10 women hope to earn your votes through their looks, lines and actions. From blowing up baddies to brewing up mayhem, which of these blistering beauties are almost too hot to handle?
Decide now! The poll closes at 5 p.m. EST on Friday, November 4.
Poll is now closed! Here are the results:
Kono Kalakaua (Grace Park) - Hawaii Five-0
3.8%
Britta Perry (Gillian Jacobs) - Community
1.1%
Angela Montenegro (Michaela Conlin) - Bones
7.9%
Donna (Sarah Rafferty) - Suits
4.3%
Fiona Glenanne (Gabrielle Anwar) - Burn Notice
3.4%
Pam De Beaufort (Kristin Bauer) - True Blood
7.9%
Caroline Forbes (Candice Accola) - The Vampire Diaries
27.7%
Astrid Farnsworth (Jasika Nicole) - Fringe
7.4%
Sarah Walker (Yvonne Strahovski) - Chuck
30.4%
Bonnie Bennett (Katerina Graham) - The Vampire Diaries
6.0%